Featured Onepager: Arches Bodywork
Relax—this week's Featured Onepager is the bomb dot calm!
Arches Bodywork is a massage therapy practice located in Montclair, NJ.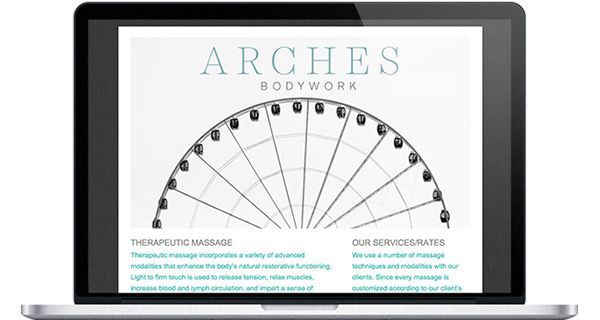 Yesterday was the March equinox, which marks the beginning of spring and, for many people around the world, a time to focus on rebirth and renewal. Perhaps you've already celebrated by balancing an egg or throwing colored powder at your friends, but if you don't recognize it formally (or even if you do) and happen to live in Essex County, NJ, may we suggest you revitalize yourself with a massage from Arches Bodywork? You shouldn't need more encouraging than that, but after a visit to their site, you'll see that it's just what you need in order to become your best spring self.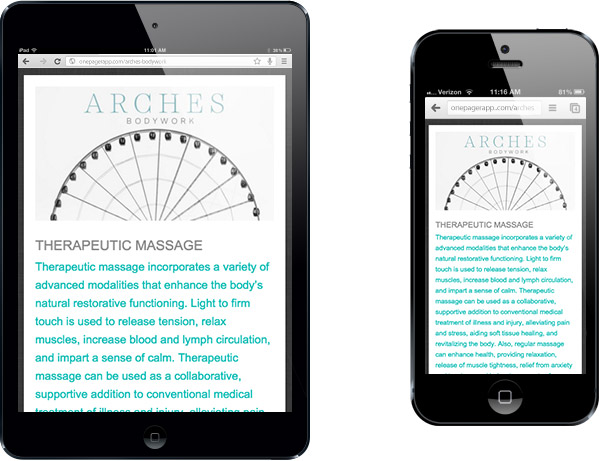 Arches uses massage to relax, restore, and heal, which their site's aesthetic does a wonderful job of echoing. By using mostly grayscale values with the exception of light turquoise body text, they've creating a calming atmosphere while also adding visual intrigue. The abstracted illustration of a Ferris wheel ties in beautifully with their name and adds to the serene nature of the page. It's like a massage for your eyes!
Throughout the site's copy, Arches provides potential customers with extremely helpful, in-depth information, both about their particular services as well as massages in general. The "What to Expect" section does a great job of preparing new clients and is sure to put them at ease, especially those who may be nervous about going for their first massage ever. Additionally, the "What To Know Before You Book" section ensures that customers come prepared, so that all they have to worry about is enjoying the most relaxing experience of their year—until their next appointment at Arches, of course!
Congratulations, Arches Bodywork, on having everything smoothed out!