Featured Onepager: BA Powder Coatings
More powder to this week's Featured Onepager!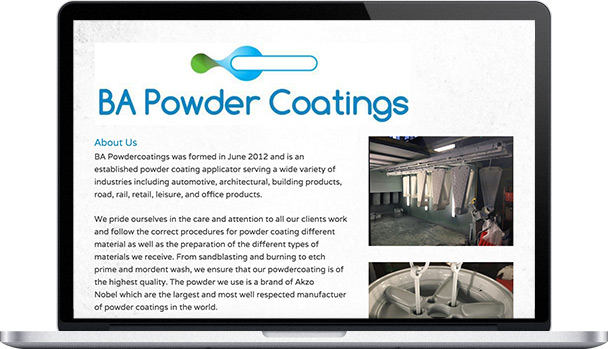 BA Powder Coatings is a powder coating applicator located in London, England.
Why We Like It
There are a few popular powders we're all familiar with: baby, face, keg, and whey (trust us, it's amazing in smoothies), to name a few. But what if we were to tell you that powder can be used as PAINT? And not just hypothetically, but for things you've probably already interacted with multiple times today, from your microwave to your car. Yep, take it from BA Powder Coatings, whose page is as clean and polished as its customers' products!
To help guide visitors, BA has divided its body text into a few useful sections: About Us, Facts & Figures, What is Powder Coating?, Advantages of Powder Coating, and a handy color chart. While the average person may not know what powder coating is, visitors on their site likely do, since it's a specialized service; BA wisely orients the first half of their page towards these customers. The About Us section provides a helpful overview of their business, while the Facts & Figures section reinforces important information from it in easily digestible bullet points. However, for anyone that's come to the site without previous knowledge of powder coating, BA has provided a helpful, quick overview of the process and its advantages over conventional paint.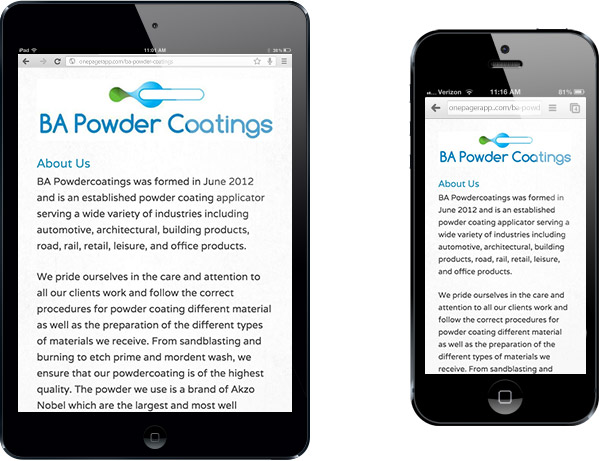 Also, since there's a lot of information-rich text in the body paragraph, BA uses the right sidebar to add some visual intrigue. Not only do their photos give an interesting peek into their facilities, but it diversifies the type of content they feature. Also, they offset the color chart that appears at the bottom of the main area with with their contact information on the right, which keeps the page from feeling blocky and maintains its overall balance. BA caps it off with our Google Maps feature, so you can easily drive over there, perhaps to get a slick new finish on your car!
Congratulations, BA Powder Coating, on a site with stellar finishing touches!