Featured Onepager: Chef Shawn's
This week's Featured Onepager looks good enough to eat!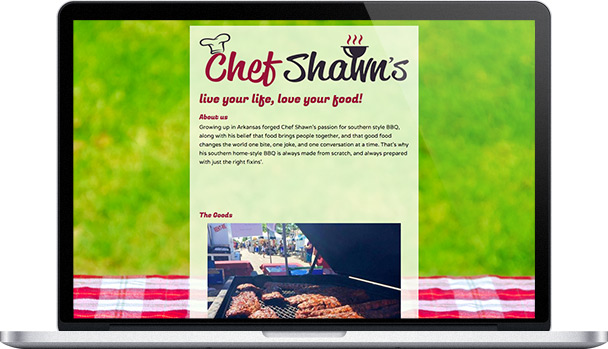 Chef Shawn is a Minneapolis-based chef bringing authentic Southern BBQ to the midwest.
Why We Like It
As a winter chill has made its permanent stay on our east coast headquarters, it sure was hard to see Chef Shawn's photo of fresh brisket being served up on a summer's day. Was he mocking us? Once we took closer look and learned of Twin Cities residence, we felt feel much better knowing he's bestowing his culinary gifts upon a population who truly understands what cold is. However, our initial jealousy is evidence of how vividly his site evokes the joy and deliciousness of Southern BBQ. The simple background photo of a picnic blanket on bright green grass says it all: this is food brings warm, happy times! We're seriously salivating right now—let's move on before we can't take it anymore!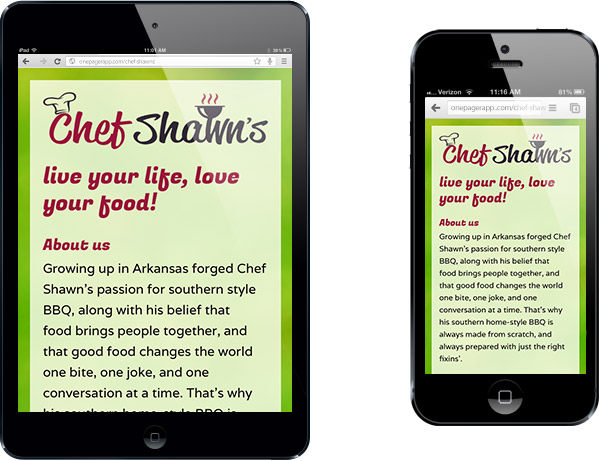 In addition to the wonderful visuals, Chef Shawn's copy strikes a great balance between descriptive and informational, rolling out the right details at the right time. His intro paragraph at the top gives visitors background information on how got his cooking chops, which will immediately have them wondering how they can book him. After the aforementioned mouth-watering photo of his grill, he provides the basics of his catering service, along with a simple, clean list of his specialities. Conveniently placed below is a contact form for orders and quotes. We're only left with one question: does he cater in NY?
Congratulations, Chef Shawn, on a site that's bursting with flavor!