Featured Onepager: Curt the Cleaner
This week's Featured Onepager is spotless!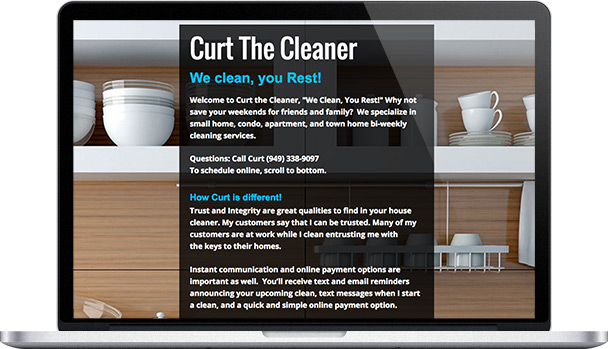 Curt the Cleaner specializes in cleaning services for small homes, condos, and apartments in Orange County, CA.
Why We Like It
As much as it pains us to say it, there are just a few days left of summer, which means vacation season is over and we're all about to be spending a little more time at home (sorry, we're just the messenger). So if you live in the Orange County area, why not call up Curt the Cleaner to make sure you're starting off fresh? If he leaves your house even 10% clean as his website looks, you might just never leave (though we'd like to mention that you probably should get some fresh air and see friends every so often). We love the background image he's chosen here, which is not only thematically appropriate, but creates just enough intrigue while using a neutral color palate that doesn't distract too much from the information. Curt has also chosen a perfect level of transparency for the text area—it keeps all of the elements feeling cohesive, but allows the white text to stand out. And the blue headers add a great pop of color.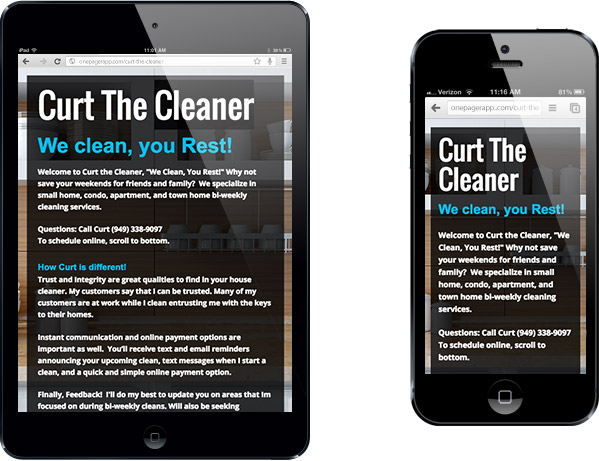 If you scroll to the bottom of the page, you'll see that Curt has integrated a third-party scheduling app into the site. It makes it super simple for prospective customers to book an appointment with him right away. When you're a small business, making it easy for people to sign up for your services is key. If it's too cumbersome, you run the risk of them getting frustrated and losing them. This app, however, works within the page, so they don't even have to leave Curt's site. We have a feeling that after their first appointment, they'll keep coming back and booking more.
Congratulations, Curt, on a site that knows clean design!