Featured Onepager: The Edit Scribe
We rule in favor of this week's Featured Onepager!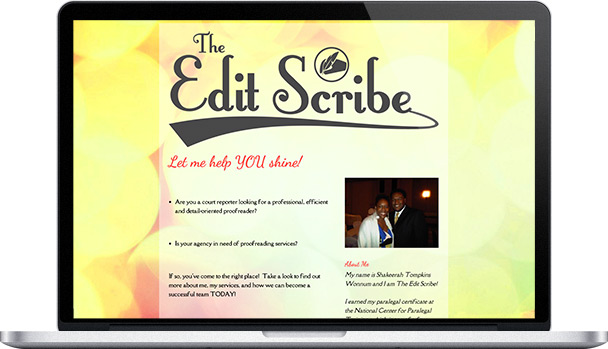 The Edit Scribe, otherwise known as Shakeerah Tompkins, is a freelance proofreader specializing in legal documents.
Why We Like It
Shakeerah's site does a wonderful job targeting the right clients and clearly presenting her services. She starts off by asking, "Are you a court reporter looking for a professional, efficient and detail-oriented proofreader? Is your agency in need of proofreading services?" By allowing visitors to self-select from specific categories, she makes it easy for them to identify whether or not they're the right audience. When you have a specific skill set—and therefore specific types of customers you're aiming to work for—it's important to let them know quickly that they're in the right place. While it's tempting to cast a wide net, small businesses and freelancers have way more to gain by zeroing in on a smaller audience that's an exact match for their services. For those in need of an expert proofreader, Shakeerah has provided all the information they'd need to move forward, including a bulleted list of skills, links to her rate and court reporter preference sheets, and LinkedIn button to her resume. And for those with more questions, they can use the contact form on the right!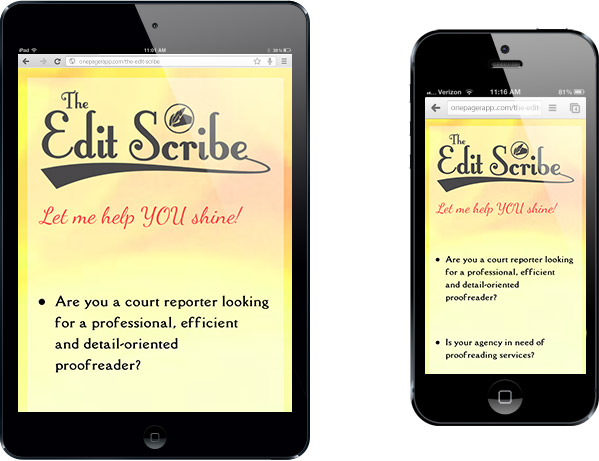 In addition to the clear way she's presented all of this information, we love the tone Shakeerah has struck on her site, which perfectly balances professional and friendly. As we mentioned before, she starts off by asking questions. Aside from allowing visitors to self-select, it also sets a very welcoming tone. Throughout the page, she keeps her language positive and focused on clients' experiences. For example, "Find out how we can become a successful team today!" and "I look forward to building a strong business relationship with you," shows that she's approachable and proactive. So not only are her clients getting exceptional proof-reading services, but also a gracious and easy-to-work with freelancer they know they can rely on.
Congratulations, Shakeerah, on setting the bar high!