Featured Onepager: Garza's Cutting Zone
This week's Featured Onepager is a cut above the rest!
Garza's Cutting Zone is a barbershop located in Bethlehem, Pennsylvania.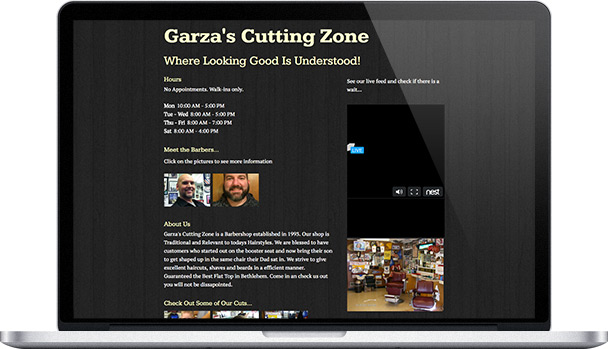 Why We Like It
Polar vortexes aside, winter is officially over, which means things are starting to get a little warmer and we can finally come out from under our coats, scarves, and, perhaps most importantly, hats. Like grass making its triumphant return from under snow, it's time for your hair to come out from under all that outerwear. If your 'do looks anything like ours, it's time for some trimming and maintenance. If you're a resident of the Lehigh Valley region, we have just the place for you, whose site is as well-groomed as the coifs of their clients.
Garza's does an extraordinary job of using multimedia features to bring out the shop's authentic, neighborhood vibe. Never do these features get in the way; rather, they invite visitors into the shop, even if it's from a browser. The first thing that we noticed was the live feed that they've embedded in the upper right corner. Not only does it give you a real-time look into the shop, but it handily gives you an idea of how long the current wait is. They've also placed a few different galleries throughout the site: one introducing their barbers, another with interior and exterior photos of their space, and then a third featuring customers' haircuts, with captions that provide useful details about discounts, styles, and services. As with the video, it brings to life Garza's friendly, neighborhood vibe while providing helpful information at the same time.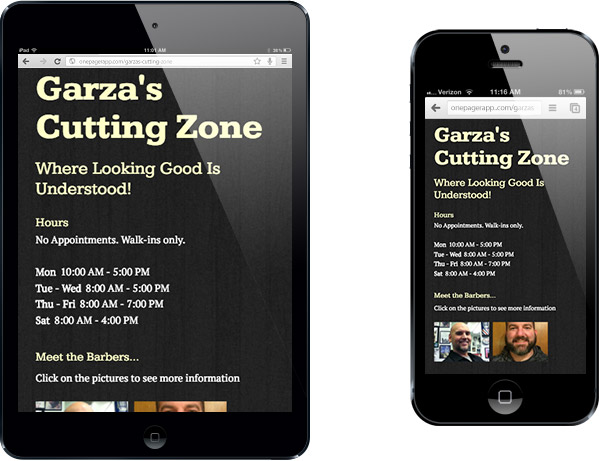 The site's copy and tone also does a fantastic job of making customers—both current and prospective—feel welcomed and appreciated. The barbers' bios include information about their hairdressing work, as well as fun personal tidbits about their interests; the intro paragraph highlights that they have customers who have been coming in since they had to use booster seats. From these two sections, it's easy to see that Garza's is invested in their clients and offers an environment and service that keeps people wanting to come back. In a time where you can book appointments online or don't even have to leave your house to get a haircut, we often lose face-to-face experiences that make our everyday events more than a series of business transactions. Garza's is a perfect example of how a website can be a natural extension of a small business, where technology doesn't take away from authenticity, but instead reinforces it.
Congratulations, Garza's, on a site that's truly cutting-edge!