Meet Sam Stone, the co-founder of a startup that helps businesses with their digital and social media strategy
Sam Stone is the co-founder of PromoteU, a startup that helps other businesses figure out their digital and social media strategies. Here's his expert advice on why an online presence is the best initial investment, how to expand your audience with the right tools, and where to find the best gelato.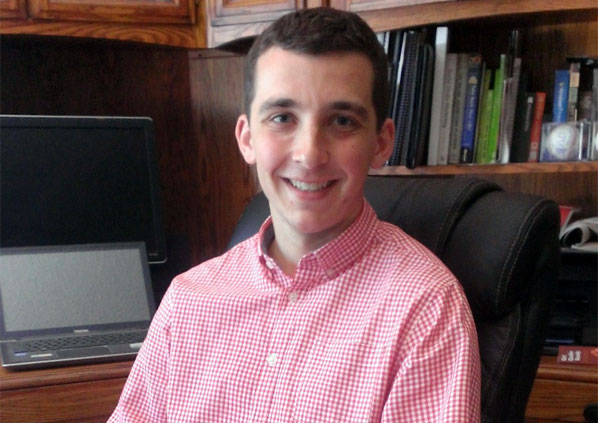 Tell us a little about PromoteU and how you started it in the first place.
PromoteU was born out of experiences of my co-founder Sebastian's father, who's a dentist. Dentistry, like many other small businesses, is an industry where there's a lot of interaction with customers, but it's tough to figure out the best way to reach them. Sebastian found that some basic, really simple digital marketing—a Facebook page, text messaging marketing, basic web development—helped his dad's business grow a lot.
We're actually really close friends and launched PromoteU about two years ago. The idea behind PromoteU is finding ways to connect all small businesses with the really fantastic, amazing digital marketing services out there. There are a lot of great tools like Onepager that make it possible for people to get the job done both easily and beautifully.
What were you doing before? Was it related to your role at PromoteU?
Up until then, I spent eight months working on a campaign in Washington, D.C. Initially, I thought it would be a rough jump to go from politics to digital marketing, but what's interesting is that a lot of my those experiences still applied. Before, it was about a political candidate trying to reach out to thousands and thousands of voters. The content of my job is different now, but the way politicians reach new people is just the same as your average mom-and-pop shop. They're creating Facebook pages, trying to get traffic through Google, finding new ways to connect with audiences.
How did you guys build your client base once you started PromoteU?
We first got started through word of mouth, talking to people that we personally know. I mean, everyone knows a couple small business owners, whether it's your aunt, uncle, cousin, or friend. When you really dig in and think about it, there are a ton of people within your personal network who are involved in the small business community. They can be real estate agents, dentists, ice cream shop owners, or even friends who works for someone like that. It's a great place to start.
In general, do you think small businesses are prioritizing social and digital media? Or is it something that tends to go to the wayside?
A lot of the time people think, "Oh, I don't really need to stay active with my e-mail marketing," or, "We'll just let this AdWords stuff go," or, "We're not gonna pay attention to what's happening on Yelp." It's a shame because there's so much potential value there, but it can have a slower on-ramp. It can be tough to demonstrate that it's going to pay off down the road, but the good news is that more and more people are online. Before I go to a restaurant, I look it up on Yelp. When I research products, I Google them. If one of my friends likes something on Facebook, I pay attention. The trend is in the right direction; it's just a question of putting in the initial effort.
Are most of these small businesses are already familiar with the strategies you suggest?
It definitely varies, right? There are businesses that made Facebook pages, but abandoned them two years ago because they didn't feel they had much success there. But there are other ones who, from the get-go, want a Twitter account, a Pinterest account, Instagram—everything. We might actually have to tell a laundromat that it doesn't necessarily need to post on Instagram everyday. Either way, it's something that people are familiar with. PromoteU is filling in the gaps of how it applies specifically to what they're doing as a business, rather than for personal use, which is how they originally understood it.
Speaking of initial investments, if you were given $5,000, what would be the first thing you'd invest it in?
I'm obviously a big fan of social and digital media…
They do say your brand message should be consistent inside and out!
I do sincerely think that if you invest in something like an AdWords campaign or Facebook, that's money you're going to be able to learn from no matter what. Even just 500 bucks does a lot on Internet-based advertising, since you're only paying per click. It's not like running an ad on late night cable where you don't know if anyone actually saw it. You're paying for actual results. More importantly, you're get a lot of analytical tools that teach you what the next step should be.
I also think that at the end of the day, we talk a lot about tools, technology, and—did you see the movie The Internship?
Not yet…
The movie itself was really silly, but the big takeaway at the end was, "Oh! All this technology and stuff! It's actually about connecting people!" It totally reminded me of what we're trying to do with PromoteU. At the end of the day, people are the best investment.
I would also love to spend that money to bring another person onto the PromoteU team who brings a lot to the table and might think of the idea that saves us twenty grand down the road. You never, ever want to lose sight of the fact that it's all supposed to connect you to other people. Any time you can harness that, you're doing something right.
As a customer yourself, do you have a favorite small business?
One of PromoteU's first customers was Morano Gelato in Hanover, New Hampshire—where Sebastian is from. We just set them up with a few basic strategies, like a voting contest for customers' favorite flavors where the owner would post daily flavors on Facebook. Hanover is pretty small college town with a population of around 10,000. A year later, this gelato shop had 6,000 Facebook likes. It's super fun to see a success story like that where digital and social media really makes a huge difference. Plus whenever we go there, they give us free gelato, so they have a special place in my heart.
You use Onepager to design websites for your clients. Is there a standout aspect or feature you think is most helpful or effective?
Simplicity. The biggest thing is that there's a lot of other people out there who build custom websites. All too often businesses think they need that, but the reality is that when we show someone Onepager—a website builder that's so easy you're going to be able to do it yourself—you don't need to hire a web designer. Onepager is simple, it's slick, it's great on mobile, and it's really easy to use. The simplicity of it is far and away what we absolutely love about it. It's empowering to a lot of people. Most of the time, small business owners want to be in control and hands-on with all parts of their business. Why shouldn't it be that way with their website?