Featured Onepager: Queen of Spades Gardens
This client-focused landscape designer creates beautiful, eco-friendly gardens!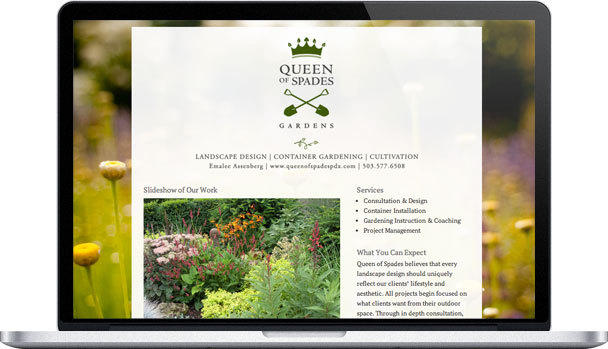 Queen of Spades is a landscaping company based in Portland, OR. It's owned by Emalee Assenberg, who specializes in sustainable outdoor design, container gardening, and client coaching. Not only does she use green materials to create her vibrant landscapes, but she also teaches customers how to care for their gardens on their own. This hands-on approach makes her designs equally sustainable for the environment and her clients.
Why we like it
Queen of Shades understands that for prospective clients, seeing is believing. Emalee provides two case studies, using slideshows to walk us through each project's process. The photographs are professional, and the captions thoughtfully explain the planning behind her work. She also includes testimonials from past clients, a great way to show proven customer satisfaction. And finally, her contact info is clearly displayed at the top as well as in the sidebar—by making it easy to find, Emalee's visitors can get in touch at the snap of a green thumb!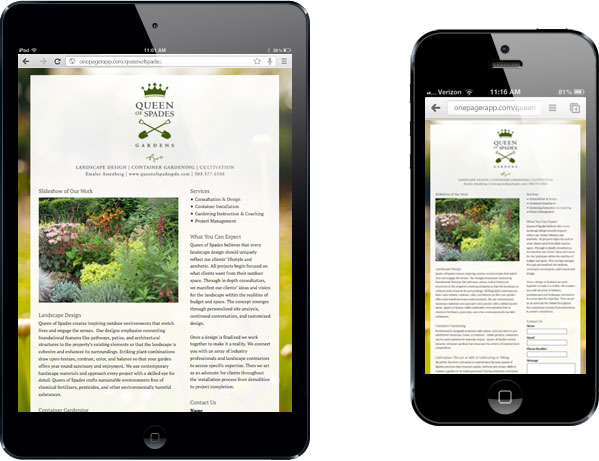 Great job, Queen of Spades, on using beautiful design to present client-focused information!