Featured Onepager: Up Town Cleaners
This week's Featured Onepager has a laundry list of good things going on!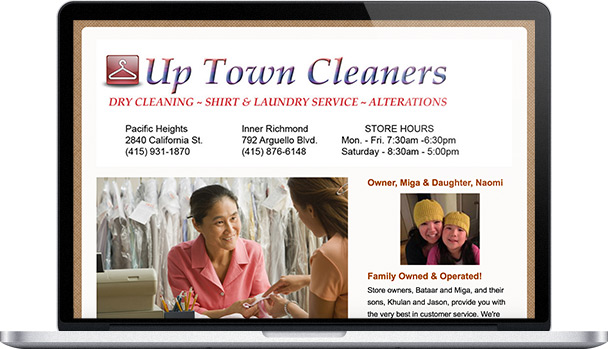 Up Town Cleaners is a family-owned dry cleaners located in San Francisco, CA.

Why We Like It
Now that we're well into May, it's time to break out all of your warm-weather garments. Yep, including those long-lost, forgotten "dry-clean only" items, which you'll have to excavate from the darkest corners of your laundry basket. Don't wait until you need it an hour before an interview or the day of your BFF's wedding—get it done ahead of time! When Googling a dependable dry cleaners in your area, the following questions are likely to pop up: Where is it? When are they open? What services do they provide? How much do they charge? And most pressingly, can they get this spaghetti stain of my fancy suede jacket?
Thanks to Up Town's clean layout and clear copy, customers will find answers without having to poke around multiple outside sources like Yelp, Google Maps, or (gasp) unofficial Facebook pages. With hours and locations clearly displayed at the top, customers can be certain of when and where they can drop off their garments. Their Onepager also prominently featured maps of their two locations so you don't have to leave the site to find out how to get there. They've also created a super easy-to-read price list, organized by service and garment type. All of this is no small deal; for anyone who's ever Googled local dry cleaners, you can attest to how surprisingly hard it is to find a website for many of them, let alone one that's so efficient.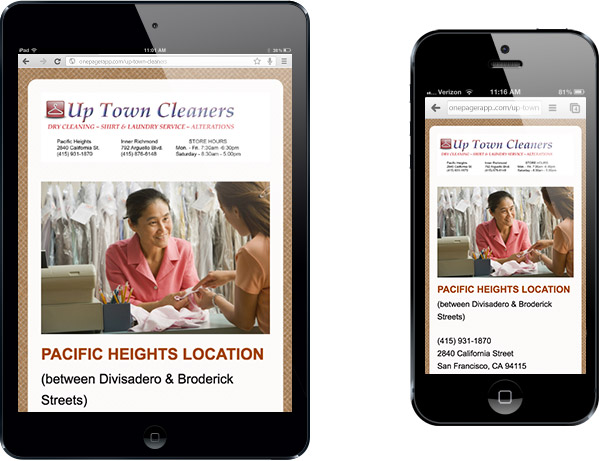 We also love the paragraph they've provided at the top right, which gives a little background about their business. The emphasis on family makes the site feel personal and inviting, which is further underscored by the picture of owner Miga and her daughter Naomi. Putting the faces to the names is a refreshing reminder that patronizing Up Town is more than a transaction—yes, your clothes will be expertly cleaned, but you'll also be supporting an honest family business with years of experience behind it.
Congratulations, Up Town Cleaners, on a tailor-made site that perfectly suits you!