Saving Our Seashore is taking an active role in restoring and preserving the shoreline using natural solutions.
"We ourselves feel that what we are doing is just a drop in the ocean. But the ocean would be less because of that missing drop."
- Mother Teresa
About Saving Our Seashore
Saving Our Seashore was founded by Karen Marvin after seeing and living through the devastating effects of hurricane Sandy. Our treasured Long Island landscape, as well as many other coastal seashores in our region, were violently re-arranged.
Shorelines are under constant threat from erosion and the damaging effects of natural disasters. We are committed to protecting our shoreline for generations to come.
We hope you'll be inspired to take action and share your passion for the seashore. One way to do that is by proudly wearing products from Saving our Seashore. Proceeds will go toward restoration projects.
Saving Our Seashore necklace
Designed, created and hand made on Long Island. Pure sterling silver (1" diameter / 1cm thick). The stone is a hand selected Neptune Garden Mystic Topaz. The chain is 16" long. It makes a beautiful statement and a great gift. Secure purchase via PayPal (you don't need a PayPal account). Contact us with any questions. FREE SHIPPING.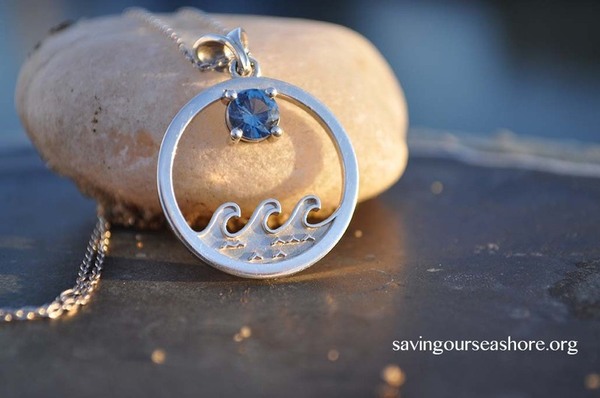 Saving Our Seashore products
By purchasing any Saving Our Seashore item, you'll be making a direct contribution to the preservation efforts. By wearing them, you'll be informing others about your support for this important cause.
Contact Saving Our Seashore
If you have any questions about our efforts to save the shore or about our products, please reach out to us.
Saving Our Seashore was founded by Karen Marvin
Karen grew up on Long Island and is passionate about its beaches. Moved by the tragedy of hurricane Sandy, Karen knew she had to do something to help in the recovery effort. She decided to use her artistic talents to raise money for the cause. The jewelry for sale on this site was conceived and designed by Karen. In addition to raising money for restoration efforts, she hopes that when people are seen proudly wearing the necklace, it will start a conversation about the importance of Saving Our Seashore. Karen would love nothing more than to pass the love of Long Island's beaches and shoreline down to her children and future generations.