KYRGYZSTAN FOOD
Nomadic way rules the Kyrgyz cuisine
The cuisine of Kyrgyzstan reflects its location and history that is it clearly indicates that it has come up from the necessities of nomadic people who live and survive in harsh weather conditions. The Kyrgyzstan food is influenced by the cultures of Roman and Greeks, Turkish and Persian, Arabian and Indian, Chinese and Russian therefore it won't be wrong to say that the cuisine is a mixture of many cultures and traditions in all. The traditional food of Kyrgyzstan revolves around meat, breads and dairy products; the preparation of which is highly influenced by the nomadic lifestyle. Meat is an all time essential and vital ingredient of the cuisine here however few can afford it daily and others cannot. Since meat is used in almost every dish and the nomadic way of living hardly believed in growing vegetables and fruits therefore it is difficult for the vegetarian visitors to satisfy their hunger. Here men are supposed to be good at cooking and you will find mostly men chefs at the restaurants.
The people over here believe in preserving the taste and appearance of the dishes they prepare; and their dishes mostly have a plain taste. They are experts in making bread and pastries as breads form an integral part of their meals in addition to meat and dairy products. The main components of Kyrgyz cuisine are meat, bread and dairy products however fruits and vegetables are served as sides only since nomads rarely grow them. They believe in keeping the original flavour of the meat therefore spices, purees etc are not used; they feel that salt and pepper are sufficient to keep the taste of meat intact. If you are invited on dinner then you are surely to be served the best of the food because the food is the outcome of lots of hard work.
They serve good and long feasts
When it comes to meat then they prefer the mutton, lamb, horsemeat, beef, goat meat and yak meat over any other meats; fishes are generally available and consumed in the areas near rivers and lakes. Meat being the central element doesn't mean that their dishes are limited; they consume meat in boiled, grilled, dried, smoked, fried forms. Since the nomadic culture and way of living is full of hard work therefore it is very important for them to consume high calorie food especially at higher altitudes. Few of the vegetables which Kyrgyz people have started cultivating are onions, tomatoes, potatoes, carrots, cabbage etc. Wheat and corn are the major ingredients which are used to make bread; corns are used in very less quantity only. They are expert bakers and make various kinds of breads at home in pots or cookers or tandoori ovens.
Hospitality is a Kyrgyz tradition and the guests are made to sit at the place of honor that is an area opposite to the door in a room. They serve lavish feasts which means a variety of dishes and beverages which can include salads, breads, snacks, appetizers, tea, juices, soft drinks, kimiz, bozo, mineral water etc. Kimiz and bozo are special Kyrgyz drinks which are made from fermented mare's milk with wheat and millet. Kyrgyz feasts are considered to be longer ones which means that they can last from anywhere between three to seven hours as once they start serving, they do the best with so much on the platter. Drinks when served are supposed to be accepted and are consumed without any limitations or restrictions. You should surely give Kyrgyzstan food a try since it has its origin from many different cultures in a nomadic way.
FACTS ABOUT IRAN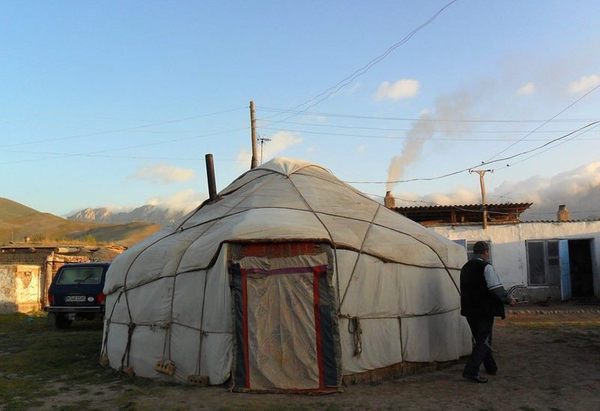 A company that provides information about Kyrgyzstan to travelers and organize tours presented all through this nation. This raised location connects travelers straight with neighborhood tour operators that deliver secure method of cash transfer.

Know our Motive

We would like to be 'One Cease Shop' for all solutions to ensure that vacationers could get hold of every and everything that is definitely the importance although scheduling an excursion to Kyrgyzstan.

What prompt Central Asian Nation?

Kyrgystan holds for countless chance for vacation. It is a jagged Central Asian country across the Silk Road, the prehistoric business way in in between Mediterranean and other parts of china. The Tian Shan Mountains, which encompass the previous caravan route and govern the nation, are house to snow leopards, lynx and sheep. Inside the south, the millennia-old city of Osh possesses a massive, hectic bazaar that was a cease on the Silk Road.

Secondly, the good thing about Kyrgystan is thoughts blowing, aesthetic all-natural sources combined with culture tends to make it special. Silk Road heritage makes it exclusive place to pay a visit to. But the majority of communities around the globe don't be aware of us that we desire to explore and reject from people's thoughts.

Kyrgystan is well-off people today country and most of them are absorbed in undertaking business enterprise with local companies which needs them to transfer money by way of wire transfer or other signifies. This cash transfer is swamped with great deal of fraudulent cases that's why our worry is usually to present them some safe signifies like Visa or Master Card money transfer. So, that tends to make Silk Road a exceptional spot which supplied secure cash transfer in Kyrgyzstan.

Why Elect us?

We at Kyrgystan feel the natural splendor about us. We are happy with what we are carrying out here. You will find a variety of chance for delight in and carrying out small business so, we want to provide you with every probabilities of fun. Of each of the Stan's in Central Asia, Kyrgyzstan is definitely the most favor gained amongst visitors. No visa hassle, straight forward thinking of people and stunning mountains tends to make your stop by price of take a look at. Our principal motive should be to make persons unwind and comfortable so that their visit to Kyrgystan remains for elongated time in their memory.
KYRGYZSTAN LANGUAGE
Kyrgystan welcomes you! We glad to assist you for supplying all sort of travelling opportunities obtainable with us. For all fans of trekking, horseback riding, mountaineering, cultural and ecotourism - Kyrgyzstan is actually a ideal selection for you personally! We're waiting to show you by far the most stunning nature in the world! You might watch our videos here and dream of the nature comely with you; as you'll be facing it in the course of subsequent visit to Kyrgystan.
TIEN SHAN MOUNTAINS
As are all in the know when it comes to, we present finest travelling opportunity in Krygystan to Travelers and also connect them with nearby operators to ensure the security of money flow. So, here are speaking to details with which you are able to attain to us.
<!--[if !supportLineBreakNewLine]-->
<!--[endif]-->
Meet up with us:

Andrei Osyanin (Executive Director):

Meet Executive Director of Silk Road here. He was brought up right here in Kyrgystan and it has travelled a whole lot for last 10 years. So, he's quiet acquainted with the surrounding location around Tien Shan. You may connect to him on the following facts.
Phone : +996 555 914 408
Facebook: andrey.osyanin

Evgenia Baturskaya (Project Manager):

Evgenia originally belongs to Issyk Kul location; a region that is certainly well-known for intense aesthetic appearance. From her childhood, she got inclination towards all-natural beauty and because of which she's got travelled nearly each and every region of Kyrgyzstan. Her hobbies are translating, journalism and photography which she manages as well as function. You may make contact with her here.
Phone: +996 559 909 735
Facebook: Evguenica

Beth Hornung (Blogger, writer)
Beth was raised in California, USA; later she shifted to Kyrgystan with her husband for teaching goal. Right here, she fell in enjoy with the organic beauty of Krygystan and started writing and submitting articles for Silk Road Promotions. Now she writes too as teaches. Her hobbies are going for extended drive via motorcycling.
Phone :+996 555 333 775

As well as the above offered facts you could get associated with us on several social networking web-sites; which we regularly updates with fresh contents and adventures for you.
Address:
28 Minbulakskiy Lane, 720042,
Bishkek, Kyrgyz Republic
+996 555 333 775
Email : info@silkroadexplore.com
Social Media: