Walk the Path to Reproductive Freedom!
We're Exploring Reproductive Freedom in Lower Manhattan
This tour traces the people and places in New York that have been instrumental in the fight for reproductive health, rights and justice, and the adversaries that they've encountered along the way.
While walking through old New York, Tribeca, Soho and Greenwich Village, this tour connects the past and the present and looks at the struggles that still exist today in acheiving the desires for reproductive freedom.
A portion of the $12 fee goes to the NY Abortion Access Fund.
Themes Covered: History & Status of Reproductive Freedom, Rights, Health & Justice, Changes in Abortion Laws, Suppression of & Access to Contraception & Birth Control, Related & Intersectional Issues of Bodily Autonomy, Maternal Mortality, Activism, Safety, Nondiscrimination, Equality, Human Rights
Sites Covered: Elizabeth Cady Stanton & Susan B. Anthony Marker, Anthony Comstock Outpost, Madame Restell Facility, New York Pharmacy, New York Hospital House of Relief, Trojan Condom & Margaret Sanger's Diaphragm Headquarters, Illegal Abortion Meeting Site, Mid-19th Century Brothel Setting, 1910 Tenement, First Italian Catholic Church in the US, Polly's Restaurant, Washington Square Church, Judson Memorial Church, Washington Square Park
Comments We've Received
"I had such a great time and learned a lot both on the tour and talking with you afterwards."
"I am really glad that I joined in this great tour to learn more about NYC and American histories on reproductive health and freedom. It is very knowledgeable, memorable and insightful. I am inspired by those brave women who fight for women's rights. No matter how hard it is we should not give up."
"Thank you very much for the wonderful tour."
"What a great tour!! Thank you for this informative tour of Reproductive Freedom in Lower Manhattan. While this will always be an important tour, the timing of it is perfect, given what recently happened in Alabama. [Our tour guide] was lovely and so knowledgeable about the fight for reproductive health and justice. She does an awesome job in connecting the past and the present. Also, 10% of the payment for the tour goes to the New York Abortion Access Fund. This is a highly recommended tour!"
"Thank you for the powerful tour! Great meeting and learning, and inspiring the impressive group of people who assembled yesterday."
Social Justice Tours
What you'll see on Social Justice Tours!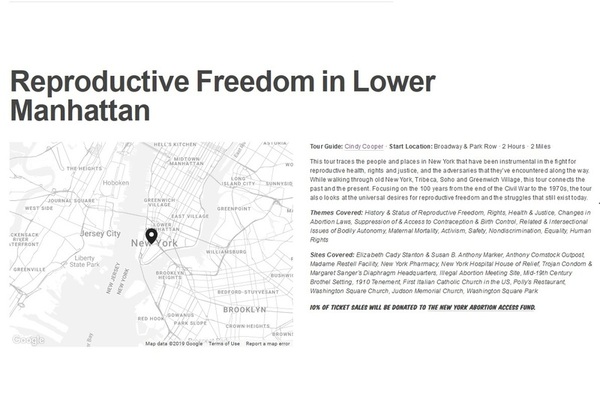 Some Background
Several years ago, Words of Choice theater conducted the first Reproductive Justice Walking Tour to show how our past and our future and intertwined with reproductive rights and social justice.
Now, we've joined with Social Justice Tours to offer the Reproductive Freedom Walking Tour.
Social Justice Tours is a four-year old nonprofit that uses tours as a medium to dig beneath the surface of what New Yorkers (and tourists) regularly see and to engage in critical dialogue: "The ultimate aim is to assist in movement building; that is to spread information, expose injustice and highlight inequality in a digestible, understandable way to encourage thought and inspire action." Dan Kaminsky is the founder of Social Justice Tours.
Reproductive Freedom Walking Tour guide Cindy Cooper is journalist, author and playwright who focuses on intersection of social justice and reproductive freedom. She is the founder of the Reproductive Freedom Festival and Words of Choice, theater programs devoted to raising reproductive freedom through the arts, and is the editor of Short Plays on Reproductive Freedom. Cooper previously served as the Communications Director of the Center for Reproductive Rights, and, as a journalist has written 100s of artices on reproductive freedom for Ms. Magazine, Women's eNews, On the Issues Magazine, In These Times, Glamour, Marie Claire, and more.
Details
WHAT: Reproductive Freedom Walking Tour Through Lower Manhattan
WHEN: Sun May 12, 1 pm; Sun May 26, 1 pm; Wed June 12, 2 pm; Sun June 16, 1 pm; Sat June 29, 1 pm; Sun July 14 at 11; Wed July 24 at 2; Wed July 31 at 2; Sat Aug 10 at 1; Wed Aug 21 at 2; Sun Aug 25 at 1 (private tours may be arranged)
WHERE: Tribeca, Soho, Greenwich Village, NYC
TKTS: $12/ 10 percent of proceeds to New York Abortion Access Fund (NYAAF)
Info
info@socialjusticetours.com
If you want to reach Cindy Cooper: reproductivefreedomfestival@gmail.com