Where every circumstance is unique.
About Us
We buy houses anywhere in Missouri at any price. We specialize in homes with unique circumstances and property owners interested in alternative solutions. We are ready to provide a fair offer for your property.
How It Works
Tell us about your property – it will help for you to have any financial paperwork for the property available for our discussion.

We analyze the specifics of the property to see if it will fit our purchasing guidelines.

If yes, we come to look at the property in person for final offer qualifications.

You receive a fair written offer.

We close at a local reputable title company and put cash in your hands in as little as 7 days.
It is a quick and simple process for some properties.
We will not list your house – we are not realtors.
We buy your house using cash which allows us to close quickly on the sale of your property as-is.
There are no fees or extra costs.
And, do not worry about repairing or cleaning up your property.
Contact us to see what we can offer you for your property…
Why Us?
We provide realistic solutions to help homeowners get out of difficult situations like foreclosure, probate, or anything else. We focus on providing you with your unique solution to your unique situation.
Phoenix REI is a real estate solutions company based out of Saint Louis, MO. We're a family-owned business and focus on helping homeowners like you find solutions for your problem whether you're going through a foreclosure, can't sell your property, or just need to sell their house for any reason.
Call Shawn & David Today! 314/800-0564.
Compare Selling Direct to Us or Listing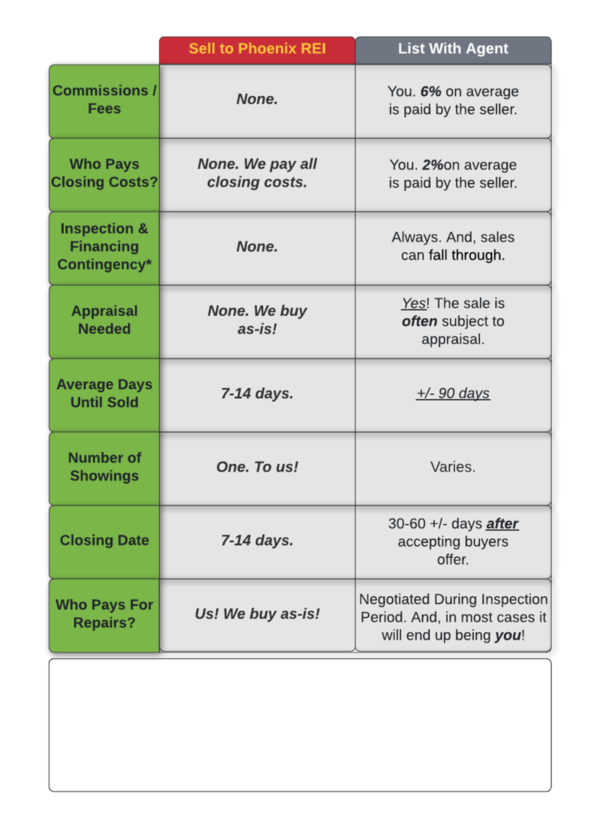 Contact Us
Connect With Us! Have questions? Excellent! We love talking about real estate and problem-solving. Just give us a call at the phone number below or send us an email. We will get back to you within 48 hours. Chat with you soon!
(314) 800-0564

Saint Louis

,

MO
Disclaimer
We are a real estate solutions and investment firm. We are not realtors, real estate agents, real estate brokers, or any similar entity, firm, or organization.