Need help with Social Media? #hireageek for your #socialmediamanagement
Is your current Social Media strategy working for you?
Does it Showcase your Brand?
Build a loyal Tribe of Customers and Fans?
Improve communication and Customer Service?
Boost traffic online and through the front door?
Reach a new audience and Increase Sales?
Decrease advertising costs and Increase Profits?
If not, it may be time for a new, more effective Social Media approach...
5 Ways To Get Started On Social Media
Identify Your Business Goals.

Define Your Target Audience and Ideal Customer.

Choose the Best Social Networks to Reach That Audience.

Create Your Content Strategy.

Pick the Perfect Social Media Manager!
Avoiding Social Media Overwhelm
Social media can be a tremendous time suck. You hop on facebook with the intention of posting a pic and update, and two hours later you realize you're two hours behind schedule and you still need to Tweet, Pin and upload those great memes and photos to Instagram...and run your business.
Simplify. Rather than spreading yourself thin and trying to be a Social Media "jack of all trades" focus on the one or two platforms that reach and engage YOUR customers and potential NEW customers.

Hashtag 101.
#Hashtags, love them or hate them, Instagram and Twitter are hashtag driven and in this short intro I hope to convince you that you should be using them, 16 of them.
Narrow your focus. Using hashtags can narrow the focus of your Twitter and Instagram posts from a worldwide audience to a neighborhood targeted audience that can walk to your local small business and become a new customer, client or student!
Hashtags allow highly specific audience targeting!
Follow this example: You own a Yoga studio (or restaurant, or any similar neighborhood small business) in LasVegas, NV and you use Instagram to attract new students and your IG posts auto upload to Twitter as a back up.
Out of habit you always add a couple of yoga hashtags like #yoga and #meditation and your own custom #MyYogaStudio. Now your posts are visible to anyone, anywhere in the world who searches any 1 of those 3 tags - 99% of those will be other yoga studios and yoga enthusiasts - NONE of which will ever walk through your front door for a class.
Hashtags are FREE! Why not add hashtags that target your local audience? You can use up to 30 of them, although the sweet spot is 11 - 16 tags.
Drill down... your studio is in Las Vegas, add some geographical tags. #Vegas is straight up tourists and won't help (unless your business caters to tourists) how about #vegasyoga, #yogavegas, #vegashotyoga, #henderson, #summerlin, #DTLV, whichever tags relate to your studio location.
Add some general tags #vegaslife, #yogalife, #yourstyleofyoga, etc. Your choice, check out your competition and see what they are using.
Close the deal. The majority of your posts should be gorgeous pics of the inside and ENTRANCE of your studio, include a shot from the street, even the parking lot. Use pics of class (from the back of class) your instructors, and selfies of you. Now, add tags like #nextclass starts at ____, New to #MyStudio your first #yogaclass is #FREE. #PrivateClasses available! DM for details!
Get the idea? Craft and customize your hashtags, create (a few) of your own and you will be able to find and track and SEE every time it is used. Really hit that location, address and class schedule. The pics from the street - to the parking lot - to and through the front door will help reduce a new students intimidation factor and fear of the unknown.
All other posts should EDUCATE any followers about Yoga, history, styles, training, etc.
How many #hashtags? Read on...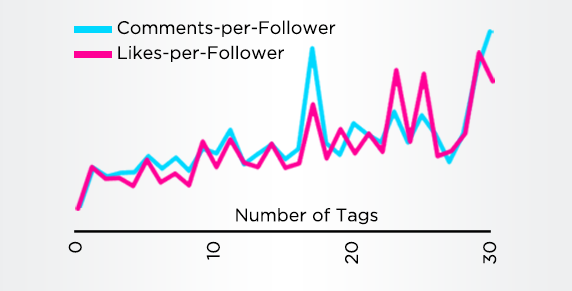 In this Semi-Scientific Experiment...
Conducted on Instagram involving posts ranging from NO hashtags to 30 hastags, the sweet spot with the highest number of likes and comments to hashtags was 16. A similar experiment with similar stats found the sweet spot to be 11. When crafting your posts, pics and hashtags - stop between 11 and 16.
Some IG and Twitter snobs are "offended" by hashtags...do you really want these folks as clients? Don't listen to the haters, develop your own custom hashtag strategy, it works!
Time is money.
Time Spent on social media is ultimately time spent away from running your business. Focus on the most cost (time) effective tasks.
Should you outsource? Would you increase your bottom line if you outsourced your Social Media Management?