2015 Off-Centered Film Fest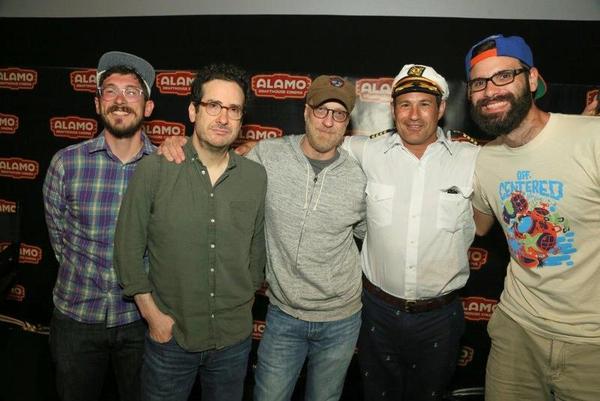 Hey sailor.
This April, Alamo Drafthouse Cinema and Dogfish Head Craft Brewery teamed up to present the Off-Centered Film Fest for its eighth year and hosted an epic three-day celebration of craft beer, delicious food and off-centered films for off-centered people. There was yacht rockin' and smooth sailing to be had by all, paying tribute to radical nautical times in cinema.
Two major highlights this year included a massive Rolling Roadshow Beer Party with a fleet of Texas craft brewers on deck alongside Austin's movie mockers Master Pancake skewering TITANIC under the stars AND a rare 35mm screening of Chris Elliott's salty 1994 comedy CABIN BOY with Elliott and director Adam Resnick in person!
Rare and vintage Dogfish Head beers were available throughout the event - think vintage Black & Black, Raison D'Extra and Olde School. Plus, Sam Calagione, Dogfish Head Craft Brewery Founder, also hosted and toasted to the spirit of yacht rockin' at all of this year's events. And, because we all love smooth sailing and clean coastlines, this year's OCFF helped further the great work of and The National Wildlife Federation.
Want to get in on the action next year? Stay tuned for next year's festival dates and schedule lineup. You don't want to miss what we have in the works!

Sam Calagione & Dogfish Head
When Sam Calagione opened Dogfish Head in 1995 it was the smallest commercial brewery in America making 10 gallons of beer at a time. Today Dogfish Head is among the fastest growing breweries in the country. Dogfish Head has focused on brewing stronger, more exotic beers since the day it opened as the motto "Off-centered ales for off-centered people" attests to. Dogfish Head has grown into a 200 person company with a restaurant/brewery/distillery in Rehoboth Beach and a production brewery in Milton, Delaware, selling beer in 27 states. Sam served as Chairman of the Board of Directors for the Brewers Association in 2012 and 2013 and was a finalist in 2011, 2012 and 2013 for a James Beard Foundation Award in the Outstanding Wine & Spirits Professional category. Fast Company Magazine named Sam one of The 100 Most Creative People in Business in 2011. He is the author of "Brewing up a Business" and "Extreme Brewing," and co-authored "He Said Beer, She Said Wine." Sam lives in beautiful Lewes, Delaware, with his wife and Dogfish VP Mariah and their two children Sammy and Grier.
Tim League & Alamo Drafthouse
The Alamo Drafthouse is a lifestyle entertainment brand with an acclaimed cinema-eatery, the largest genre film festival in the United Sates and an online collectible art store. Named "the best theater in America" by Entertainment Weekly, the Alamo Drafthouse Cinema has built a reputation as a movie lover's oasis not only by combining food and drink service with the movie-going experience, but also introducing unique programming and high-profile, star studded special events. Alamo Drafthouse Founder & CEO, Tim League, created Fantastic Fest, a world renowned film festival dubbed "The Geek Telluride" by Variety. Fantastic Fest showcases eight days of offbeat cinema from independents, international filmmakers and major Hollywood Studios. The Alamo Drafthouse's collectible art boutique, Mondo, offers breathtaking, original products featuring designs from world-famous artists based on licenses for popular TV and Movie properties including Star Wars, Star Trek & Universal Monsters. The Alamo Drafthouse Cinema is expanding its brand in new and exciting ways, including the launch of Drafthouse Films, a new film distribution label and plans to extend its theaters and unique programming philosophy to additional markets across the United States. More information about Alamo Drafthouse franchise opportunities are available on the official website.