Featured Onepager: Abby Larson, M.A.
This week's Featured Onepager is in a class of its own!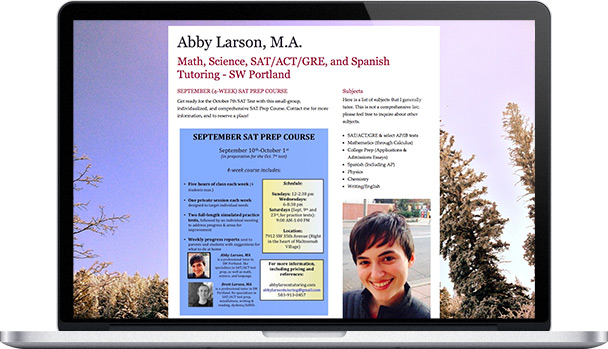 Abby Larson is a professional tutor helping students of Portland, Oregon achieve their academic goals.
Why We Like It
As much as it hurts to acknowledge, we have arrived at mid-August, which means (we know, we know) we're firmly in back-to-school territory. But for anyone who finds themselves flinching at a Staples' window display, never fear! Professional tutor Abby Larson is here to help make it manageable and rewarding.
Abby's page does an A+ job of organizing copy in an intuitive and approachable way. In very little space, her header communicates a wealth of information: her services, her specialties, her credentials, and her location. Since people use tutors for a wide range of areas, it saves visitors a lot of time to know they're in the right place right off the bat. The list in the right-sidebar gets a little more granular about the subjects Abby covers, all of which she expands on further down the page. By starting off generally and gradually getting more detailed, the copy acts like a funnel, smoothly guiding potential clients through the site. We especially love her "Why Choose a Professional Tutor?" section, where she makes a persuasive case in five mini sections, each with an organizing idea in bold at the top, followed by supporting information. Her tone is the perfect balance of professional and welcoming, exactly the type of mix you'd be looking for in a tutor. We also love the "About Me" section, which paints a picture of Abby outside of her work, adding a nice personal touch.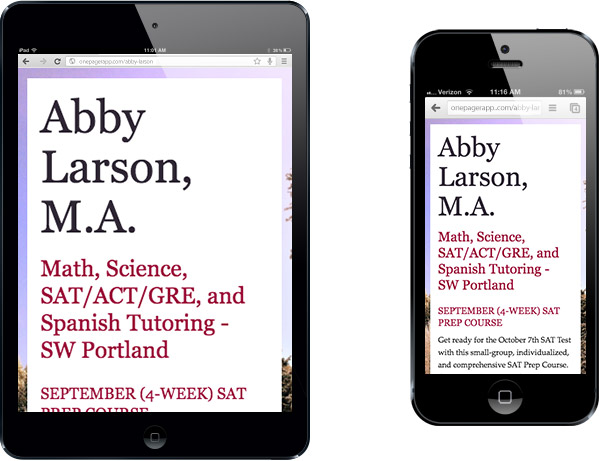 We also want to point out what a wonderful job Abby has done of keeping her site current (and since we at Onepager are dedicated to making page updates quick and easy, it warms our hearts to see it).
She has smartly placed the section about her upcoming SAT prep course above the fold, so that there's no way visitors can miss it. Also, by highlighting it in blue, she brings more focus to it while setting it apart from the evergreen sections around it. And when September finally rolls in, she'll easily be able to update this section with her next course.
Congratulations, Abby, on a site that aces the test!
Ready to showcase your business or brand?
Create a simple small business website with Onepager
Start Building