Featured Onepager: Begonia's Hedgehogs
This week's Featured Onepager has quite an impressive pedigree!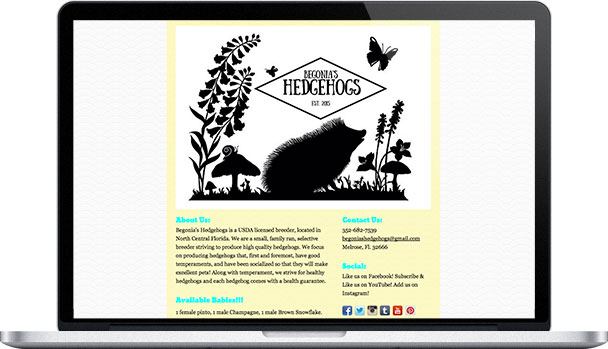 Begonia's Hedgehogs is a USDA licensed hedgehog breeder located in Melrose, Florida.
Why We Like It
The closest we've ever come to raising a hedgehog is owning a Sega Genesis in middle school, but after checking out Begonia's website, we're tempted to take it to the next level. Even if you didn't think you wanted a hedgehog, scrolling through the gallery of these adorably prickly critters might convince you otherwise. By the time you get to the photo of a hedgehog wearing a tiny handmade knit cap, you'll be filling out the waiting list form in no time. Don't even talk to us about the hedgehog swimming in a mini bath with a mini rubber ducky—he's as cute as a tiny, spiky button.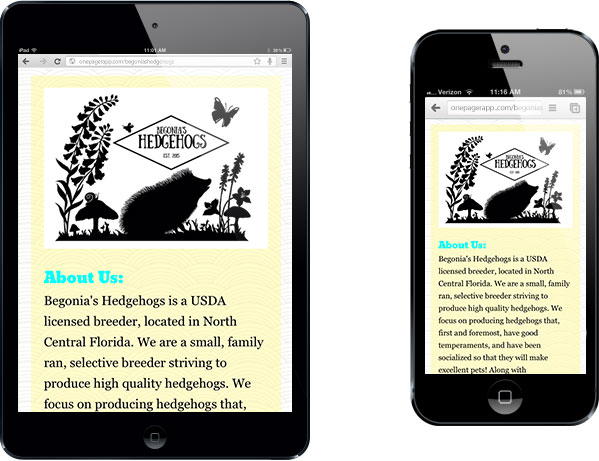 Speaking of buttons, Begonia's makes great use of the Onepager kind! Theirs is is a great example of using their Onepager to give visitors a simple portal to their other online channels. Begonia's has a robust social media presence, which they've featured at the top of the right sidebar. Just in case you thought you ran out of adorable photos, their Instagram and Facebook feeds will give you a lot more where those came from. For super fans, you can check out hedgehog-themed jewelry by clicking on their custom-made Etsy button. And if you're ready for hedgehog parenthood now? The PayPal button allows visitors to quickly put down a deposit so they can welcome a bristly bundle of joy into their house quicker than Hyper Sonic can barrel through the Hidden Palace Zone.
Congratulations, Begonia's, we're (hedge)hog wild about your site!
Ready to showcase your business or brand?
Create a simple small business website with Onepager
Start Building