Best Ways To Acquire And Retain Customers
As a follow-up to Getting Your Small Business Started, we have written up a series of helpful articles addressing the concerns that small business owners share.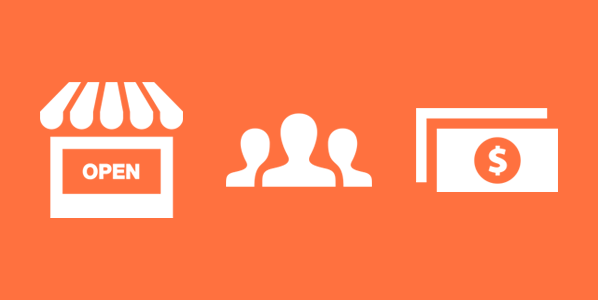 Acquiring and retaining customers is a small-business development step that should be very high on your list of priorities. While you might be anxiously waiting to explore the concepts of pricing, sales, and, of course, making a profit, building a customer base is more important and should come first, mainly because the customer is the one who eventually provides the aforementioned sales and profits. Thirty-seven percent of the small business owners that we interviewed believe that getting customers is their biggest obstacle. Starting with the basics, we'll define what a customer is and help you figure out who your target customer is. Then we'll jump right into how to get them, and how to keep them coming back for more.
Customers can come in many forms depending on your business type. Your customer might be a client (using your services) or a buyer (purchasing your goods). Similarly, your customer might be an individual, a group of people, or a company. Lastly, the customer might be local, visiting your shop in person, or remote, ordering a product or service via the web. In any combination, the person or group of people is receiving a product, service, or idea from you. From this beginning stage, it is important to understand who that person or organization is and what they need from you. As your company develops, your target customer might change. Maybe you started out creating and producing clothing for individual adults in New York City. In this case, your target customer might be the average New York City resident. After a few years, when you are profitable, you might consider making children's clothing as well. In this case, your target customer might become the average New York City resident, as well as the average New York City parent.
Once you have a solid idea of who your target customer is, you can begin to brand your company and position it within that customer's marketplace. Later in this series we will discuss specific marketing tactics, but for now we'll only focus on the branding strategies that will bring customers to you. The bottom line: you need to get the word out about who you are and what makes you special. Using social networks is an easy, cost-effective way to begin telling people about your company. Here's a partial list of networking services that you should look into signing up for:
Facebook
Twitter
Foursquare
Google+
Instagram
Blogs
LinkedIn
Yelp
YouTube
Every company has different needs, so your involvement with specific services will vary. A business with a brick-and-mortar location should definitely sign up to be listed with Yelp, but a LinkedIn profile may not be necessary. You can begin positioning your company online very early in the process so that people feel anticipatory about your product or service. Depending on your company's scope and budget, you can also hand out flyers, advertise in newspapers or magazines, create signs, send out E-newsletters, or purchase billboard space. While you are getting the word out, you might try offering introductory specials such as product or service samples and deals.
Once you've ushered in some customers, remember that these relationships—especially at the beginning—are fickle. The customer is not yet loyal and can easily decide to use another company or service. This is why you must remember to pay close attention to your interaction with the customer, and treat the customer very well. Keep them informed via newsletters, E-newsletters, brochures, email blasts, holiday cards, and birthday cards. Thank them for using your company or service. Be readily available when they need help. Admit when you've made a mistake, and fix it. And, if you are an internet-based company, let them edit or update their settings for how much information their receive from you. If your customer likes their experience using your business or service, they will become loyal, long-term customers, forming the backbone of your small business.
Now that your customer base is solid, you're ready to focus on sales and marketing strategies. In the next post, we'll give you all the information you need to market your company or service. From here on out, you'll only be moving in one direction—forward.
---
Articles In This Series
16 Best Small Business Apps To Save Time With Administrative Tasks
Creating A Marketing Strategy That Will Help Your Business Succeed
Where To Find Support As A Small Business Owner
Getting Your Small Business Started
The Survey Results Are In: Small Businesses Share Similar Concerns
Small Business Shared Experiences Survey
Ready to showcase your business or brand?
Create a simple small business website with Onepager
Start Building