Featured Onepager: Boca del Cielo Inn
This week's Featured Onepager is inn-credible!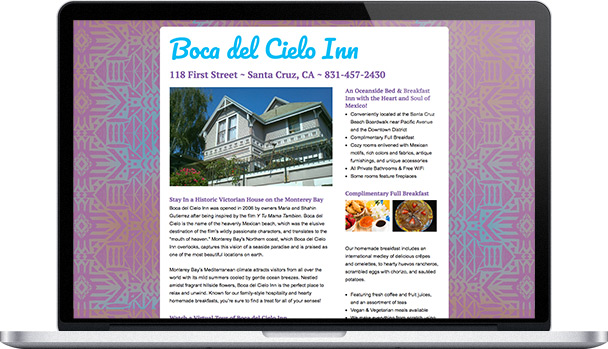 The Boca del Cielo Inn is an oceanside bed and breakfast located in Santa Cruz, CA.
Why We Like It
July Fourth is upon us, which means summer is finally in full gear. If you haven't booked your vacation plans yet, we know just the place to look: the Boca del Cielo Inn, whose site not only reflects the bed and breakfast's beauty, but its charming atmosphere. Their Onepager is full of so many wonderful, personal touches, starting with its backstory (the owners were inspired by Y Tu Mamá También) and the English translation of its name ("mouth of heaven"—come on, how do you say no to that?). The virtual tour gives visitors a closer look at the inn, and co-owner Maria Gutierrez's narration is as informative as it is engaging and inviting. The video even features a cameo from resident macaw Tico!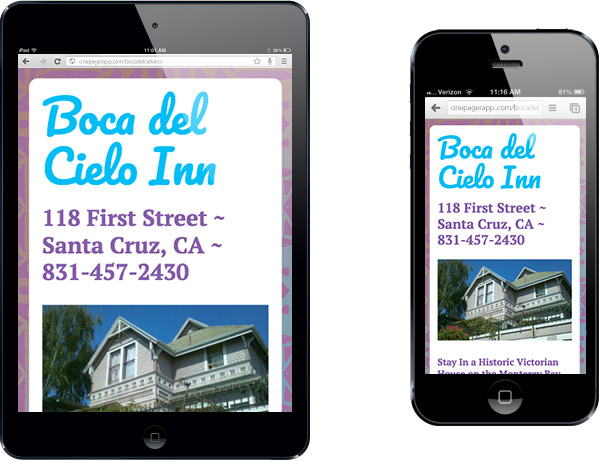 In addition to its friendly vibe, Boca del Cielo's website is a wonderful example of how you can pack in a lot of information into just one page. Thanks to their expert organization, the text never feels overwhelming or cluttered, and the clear headers make it easy to locate specific details you might be looking for. They also make excellent use of buttons and embedded features to direct visitors to websites for local attractions, Boca del Cielo's Yelp page, and their room availability tool. This allows the site to house essential information while guiding potential guests to helpful external sources. They also get extra points for having all their links open new tabs, so visitors keep their place on Boca del Cielo's site.
Congratulations, Boca del Cielo, on a heavenly site!
Ready to showcase your business or brand?
Create a simple small business website with Onepager
Start Building