Meet Christina Vuleta, a 40-Something Who's Encouraging 20-Somethings to Be More Disruptive, Part 1
Christina Vuleta is the founder of 40:20 Vision, a non-profit dedicated to bridging the gap between 40-something women and their 20-something counterparts. Christina had too many interesting stories to fit into one post, so we're publishing her interview in two installments. Enjoy the first half!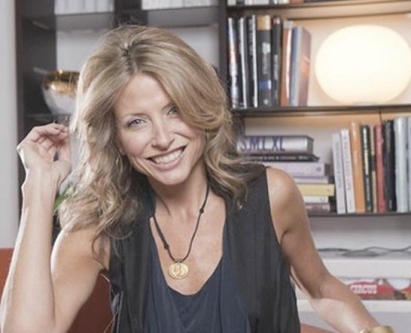 The Forty Women to Watch Over 40 list is an outgrowth of your organization, 40:20 Vision. When did that get started?
That started four or five years ago. I worked at a consultancy and we did a lot of work with generational research and trends, helping companies develop new white space or better positionings that are more future-focused.
I was out to brunch with some of my friends, all 40-somethings, and we were waiting for our table when these two younger girls, who were also waiting, started asking us questions about careers, boyfriends, dating in New York City, all that. We sat down, and I thought, "I wish we could just bottle it and give it to them." They had this bravado, but they still didn't have confidence. They were still asking the same questions we asked—they just didn't know how awesome they were.
When I started talking about my idea, everybody was saying, "Oh, you can't. You have to live it to learn it. 20-somethings don't want advice." I wondered where that came from. When you look at generational research, the boomer attitude was, "Don't trust anyone over 30. It's us versus them." With millennials, it's much more of a friendship with their parents, not an authoritarian relationship. They're more focused on continual learning. Why wouldn't you want to get more perspective from people who have been there and done that?
But I also didn't want to be telling them what to do. At that brunch, I thought, "Look at us, there's seven of us around the table. We've each made completely different decisions. There's people who are married, not married, having a baby on their own, getting divorced, just getting engaged, starting a company, consulting. We're all in totally different places, but the one thing we have in common is that now we're making decisions for ourselves. Now we have that confidence to say, 'This is what I want to do,' rather than, 'Oh, everyone's getting married. I should get married.'" Our generation is the first that really had so much freedom to make the good choices.
How long did it take you to start 40:20 after that?
I ended up quitting my job and going around the country and interviewing 150 to 200 40-something women on what they know now that they wished they knew then. It was originally going to be a book. I met with a couple agents and they said, "This is great, but you need a platform." So I ended up starting the blog and getting involved in mentoring events here in the city. As I interviewed more entrepreneurs, I realized that there's so much more mentoring and sharing and freedom of knowledge exchange. I certainly didn't have that growing up in advertising.
I came up with this insight that everybody deserves to have their own advisory panel, and I decided to create them. I got seven older women and seven younger women together for a night focused around career growth. I flipped the model of the panel where you listen and then ask questions. Instead, I made the 20-somethings' questions the event for the evening. The seven of them would come with one question each, and we would sit at the table and moderate the discussion.
That was called "7 on 7." That's when I first started using Onepager, because I had my blog that somebody else had designed, and I didn't know how to build on my own. When I wanted to publicize the 7 on 7's and was doing them regularly, it became a great way to easily go in and change the content, then link to the page on invitations.
Then I had the idea of Forty Over 40 and found a group of women to start it with. I told them we could just use Onepager. It's easy. I just made a logo and played with it. But when we started getting ready for this year's nominations, we needed to migrate to a bigger, multi-page site to be able to show not only last year's winners, but this year's winners, too.
What do you look for in nominees?
Whitney, the woman I partnered with, works on disruption. She worked for a consultancy with Clayton Christensen, who wrote The Innovator's Dilemma. She had also written the book called Dare, Dream, Do and had started her own practice around personal disruption, looking at how to take the same theories and apply them to your life. Actually, if you look at the stages of development, the period in your 40s to 50s is a very productive era. It's where you're harnessing all the knowledge that you've collected and you're better able to apply it to a broader arena.
I had a stake in thinking about being a good role model. We didn't want it to be Arianna Huffington and Hilary Clinton, people that have already achieved a lot. We wanted it to be up-and-coming. You also hear the same stories of Sheryl Sanbergs of the world and the stay-at-home moms, but there's never anything in between.
In the end, we decided on three criteria: one is that you're creating momentum, impact, or new growth in your area of work. Another is that you're creating a new type of role model and that you're bringing new women up with you. The last one is a sense of personal reinvention, taking stock of your life or taking on new challenges, not resting on your laurels or repeating the same things.
The first year, we just opened nominations up on social media. People asked why we didn't align ourselves with a magazine and get sponsored by them. We wanted to do it on our own the first year, and we were really passionate about it. We had a thousand nominations, and we had to get everyone that contacted us to fill out the official form. We'd get their names, and then send them our Onepager site where they could find the link to the form.
How did you determine the winners?
We had a committee of four of us. We got 20-somethings involved because we wanted it to be cross-generational, too. Once we narrowed down all of the nominations to 80 or so, we got a panel of judges to provide an outside perspective.
Where did the judges come from?
We just went for the stars and asked. We got Dave McClure from 500 Startups, the CIO of GE, some really good people. We also made sure that it was all people in their 20s, 30s, and 40s. It was 50/50 men and women.
That's so cool. There are all those "30 Under 30" lists which are limiting because it poses an arbitrary age as an end point. But then you get there and it's not.
I talked to so many 20-somethings and they're like, "Oh my God, I'll never have the chance to be on the 30 under 30 list." That's so depressing. You have so much more in front of you. So many women believe their choices are getting narrower and narrower in their 20s, but they're actually not.
Ready to showcase your business or brand?
Create a simple small business website with Onepager
Start Building