Featured Onepager: Convoi de Fête
This week's Featured Onepager knows how to get the show on the road!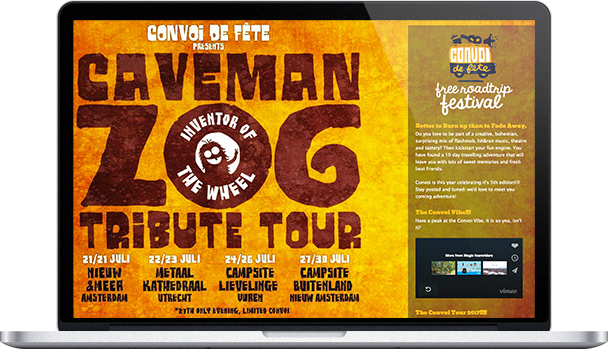 Convoi de Fête is a 10-day traveling adventure in the Netherlands.
Why We Like It
If you're a music festival enthusiast who thinks they've seen it all, we present you with a new kind of festival: one on wheels! Just as attention-grabbing as the idea behind Convoi de Fête is its site's visuals. The bright orange-yellow background draws you right in and the watercolor-like texture gives the page a handmade feel. The founders say they "decided to create a festival that is from and by the people who bring the fun stuff" and their aesthetic perfectly echoes this sentiment. The logo above the text body is drawn in the same bohemian style as the background image, unifying the two areas. Their website truly feels like an extension of the in-person experience.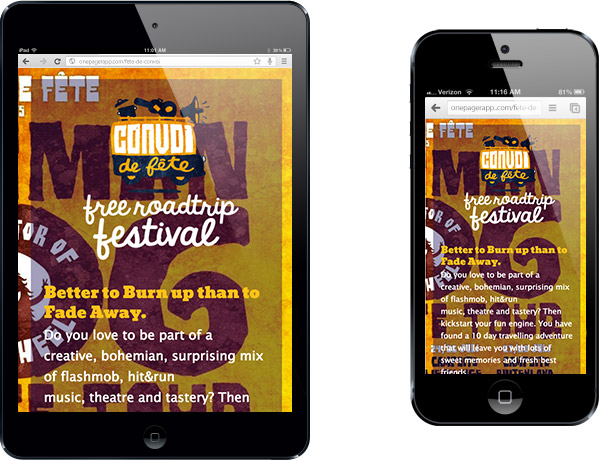 And it doesn't just stop at the visuals—the welcoming copy reinforces the spirit of Convoi de Fête. The warm, conversational wording embodies the authentic spirit of the festival and makes you feel welcome. We also love the playful backstory of Zog, "the inventor of the wheel", a Neanderthal to whom the fifth anniversary tour is paying tribute. Unfortunately, we at Onepager won't be in the Netherlands this month, but if you are, please join in on the fun and report back to us!
Congratulations, Convoi de Fête, on a site worthy of celebration!
Ready to showcase your business or brand?
Create a simple small business website with Onepager
Start Building