Creating A Marketing Strategy That Will Help Your Business Succeed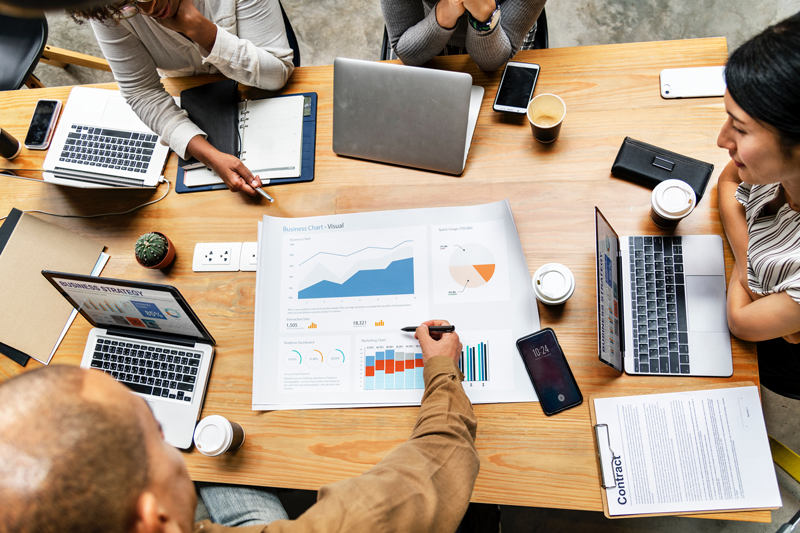 As a follow-up to Where To Find Support As A Small Business Owner, we have a new entry in a series of helpful articles addressing the concerns that small business owners share.
Let's discuss what exactly marketing is, and how to make it a priority for your business, no matter the type.
In the last post, we discussed starting-point strategies for branding your company and positioning it within the marketplace where you'd like to sell your products or services. These starting-point strategies are just that—a start. Now, it's time to build upon the foundation that you've worked hard to create. You have a solid business plan, the word is officially out, and your customer base is growing, right? The next step is to implement your marketing plan. The majority of small business owners that we surveyed in the spring think that marketing is the area where small businesses need the most help. In fact, marketing beat out business and technology savvy, branding, administrative work, production, and managing employees (among other things) as the small business sector where survey responders felt they needed the most support. We'll help you start the process by first taking a look at what exactly marketing is, and then focusing on what makes it so important for businesses today.
Not The Simplest Definition
By definition, holistic marketing is the process by which you plan, create, communicate, and deliver "value" to your customers or clients. If this sounds abstract or confusing, that's because there are many ways to work with the concept of value, and there are many steps involved in the process as a whole. In simpler terms, "value" is what you have that your customer or client wants—whether it's an accounting service, a stand-up comedy performance, or artisanal chocolate. Marketing, therefore, begins with the way in which you create that value (sometimes called your product or service). Marketing also involves how you tell your customers about it, how you sell or offer it, and, at the end of the day, how you deliver it to an individual or organization (sometimes called your client or customer).
Successful companies with effective marketing plans end up with satisfied individuals or organizations, and they are likely to make a profit as well. The satisfied end user (be they a customer, client, or company) will probably return for more goods or services, and they may even tell their friends about it, propelling the business forward and closer to its goal. After all the business jargon is stripped away, you'll see that effective marketing means forward growth for your company, and that's precisely the reason that it's so important.
Many modern companies (both small and large) use the aforementioned type of marketing strategy, often referred to as a "holistic" marketing approach, because of its inclusivity. The holistic approach treats marketing as a broad but complex activity with many moving parts that must be integrated. In the past, businesses have gravitated toward other marketing approaches, such as product marketing and sales marketing. But today, most business experts contend that having a well-integrated perspective that considers many different business features is most effective. Depending on your business structure, you may find some of the steps redundant, and you can certainly choose to focus on specific areas—such as delivery—more than others—such as production. But we'll take a close look at all of moving parts, as well as how they work together.
The Product
It all begins with the product, service, or, as we called it earlier, the "value." When developing a thorough marketing plan, you need to first make sure your product or service is desirable—that it's considered valuable to people. If you've developed an innovative product, but nobody wants to buy or use it, consider your options. Take a look at your target audience again, and try tailoring or tweaking your product or service to better meet the needs in that specific marketplace. If you are opening a sporting goods store near a retirement community, for example, think about carrying products that an older customer might buy. If you are selling snacks and it's the summer, consider opting for cold treats like ice cream. If you happen to be providing both a product and a service (sporting gear and lessons, for example), consider grouping these things together into a package that customers can purchase. Continue to tweak until your product is highly valuable.
Pricing & Sales
The next step involves doing some research in order to determine your pricing. Pricing your product or service really depends on what it is that you're offering and can obviously run the gamut. Keep in mind that high prices generally correspond with lower volume, and low prices generally correspond with higher volume. With that said, small businesses that offer personalized services or products can often effectively raise their prices. In any event, smart and informed pricing decisions can make or break a business, so carefully consider the following:
Your service or production process has a total cost, possibly including the price of materials, overhead costs, and even labor costs. Know what this number is and price your products accordingly so that if your goal is to make a profit, you will succeed.
Check out the competition. This can help you gauge your pricing, but it's also important to think about where you want to position yourself in the marketplace (again). You might want to offer a higher-quality service than your competitors do, in which case your prices might indeed be higher. If so, highlight what makes you special, be it 24-hour customer service, homemade food, or the use of fair-trade materials.
Think about tiered pricing, or offering multiple price points for your products or services. If you are offering a product that can be easily upgraded, tiered pricing is especially effective. You can offer the base model at a certain price, with an option for add-ons and upgrades. Your customers may not opt for all the bells and whistles, but they might upgrade a little bit. If you only offer one product or service, consider creating a more basic version at an even lower price. Customers are often drawn in by low prices, and they may come back later for a more expensive option once they know and trust your company or brand. Similarly, consider creating a more expensive version of your product or service. Some people like to splurge, and they should have the option to do so.
Don't sell yourself short by pricing your products or services too low. Remember that your product is valuable, and price accordingly, maybe even a bit high. You offer all the benefits of a small business: knowledge of the product or service, helpful and friendly customer service, possibly an exclusive location and merchandise, and more.
Promotion
Now it's time to interact with your customers. There are many ways to present your business to the public. Public relations, advertising, and communications are all buzzwords that fly around when you convey a message about a business to potential (and already-loyal) customers. Here are a few ways to get your message across loud and clear:
Give products or services away for free. Sometimes people just need a taste, and if they like it, they will be back for more.
Collaborate. Ask your friends to link to your company's website, and in turn link to theirs. Try bundling your goods with someone else's in a promotional package.
Use social media. Participate in all social media services that are relevant to your company. This might include Facebook, Twitter, FourSquare, LinkedIn, Yelp, Google+, Pinterest, Instagram, and others. If the platform effectively conveys a message about your company to a person, you should be using it.
Create newsletters or e-newsletters. Send them out weekly. This shows people that, as a company, you're involved, aware, and probably growing.
Have business cards. You are very likely to meet people in very unlikely places. Always have a card on hand.
Create posters or flyers. If it makes sense for your business, hang them up in the neighborhood where your store is opening. If someone passes the same bulletin board every day, and a new poster appears, they will likely read it, or subconsciously take note of "something new."
Share testimonials. If you are getting good reviews, put them to good use! Post them on your website—as a stand-alone quote or on a testimonial page.
Network. Find a place within a network of people that are doing similar things. Networking might not provide instant gratification, but there is a large chance that having a support system will be helpful later.
Distribution
Depending on your business type, distribution could be as simple as placing a product into the hands of a customer or delivering a service yourself. If your business doesn't have a location, you might still distribute yourself, via personal delivery or mail. On the other hand, you might like to distribute your product through individual merchants, or even groups of merchants. However your product or service gets into the hands of your client or customer, remember that—just as you market your business throughout the production, pricing, and promotion phases—you can also market your business by offering incentives such as free delivery, home delivery, and more.
If you keep the customer or end user constantly in mind, take advantage of all of the modern communicative opportunities, and approach marketing as a venture that should be used holistically, and in all parts of your business model, you will come out ahead. Financing your company, gaining customers, marketing and selling your products and services to a local (or widespread) audience . . . this all adds up to a lot of work! In the next post, we'll approach the idea of hiring help—how you know you need it, who to hire, and the best time to do it.
---
Articles In This Series
16 Best Small Business Apps To Save Time With Administrative Tasks
Where To Find Support As A Small Business Owner
Best Ways To Acquire And Retain Customers
Getting Your Small Business Started
The Survey Results Are In: Small Businesses Share Similar Concerns
Small Business Shared Experiences Survey
Ready to showcase your business or brand?
Create a simple small business website with Onepager
Start Building