Featured Onepager: Diane Martin
This week's Featured Onepager is a crowd-pleaser!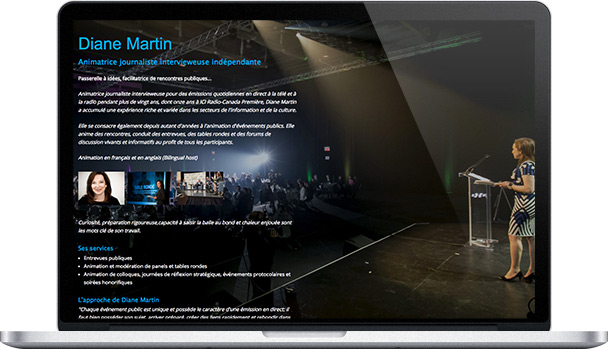 Diane Martin is a bilingual moderator and interviewer from Quebec, Canada.
Why We Like It
As some of you already know, Onepager takes care of hosting for our customers. But in the case that you need hosting in the more traditional sense, we present to you Diane Martin, a moderator and interviewer who's worked with quite an impressive list of clients.
Through dynamic and eye-catching visuals, Diane draws visitors in while showcasing her impressive skills in action. The background quite literally sets the stage, putting you in the place of an interviewee waiting backstage as she introduces you to the crowd. The off-center body text allows Diane to stay in view, while the spotlight towards the center of the photo cleverly draws your attention the the words. We also love the picture gallery further down the page, which includes a wide variety of compositions and environments, from Diane presenting at a podium to moderating a panel to chatting with participants backstage. This not only keeps it visually interesting, but also showcases her professional versatility.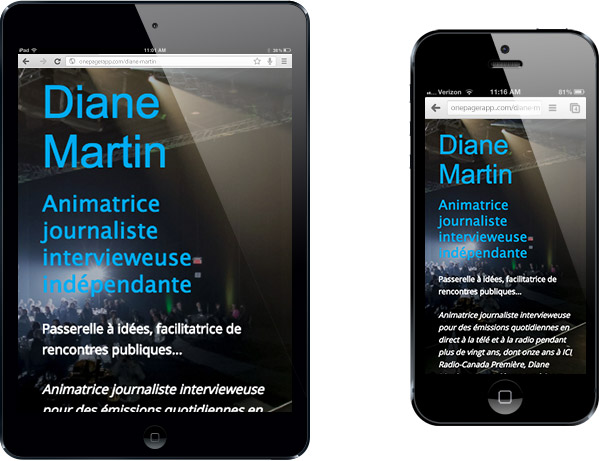 Diane's list of clients provides further proof of her wide-ranging expertise. A quick glance shows you that she's interviewed and moderated both public and private sector events across a diverse range of areas. Below the list, you can check out some glowing reviews, the majority of which are repeat clients—including one who's been working with Diane for 15 years. In addition to the overwhelmingly positive words, these long-standing relationships make it clear that people trust Diane and keep coming back, which is often the best review of all.
Congratulations, Diane—on a a site with a host of impressive accomplishments!
Ready to showcase your business or brand?
Create a simple small business website with Onepager
Start Building