Featured Onepager: Timmy Waxhammer
This week's Featured Onepager is a stunning portfolio!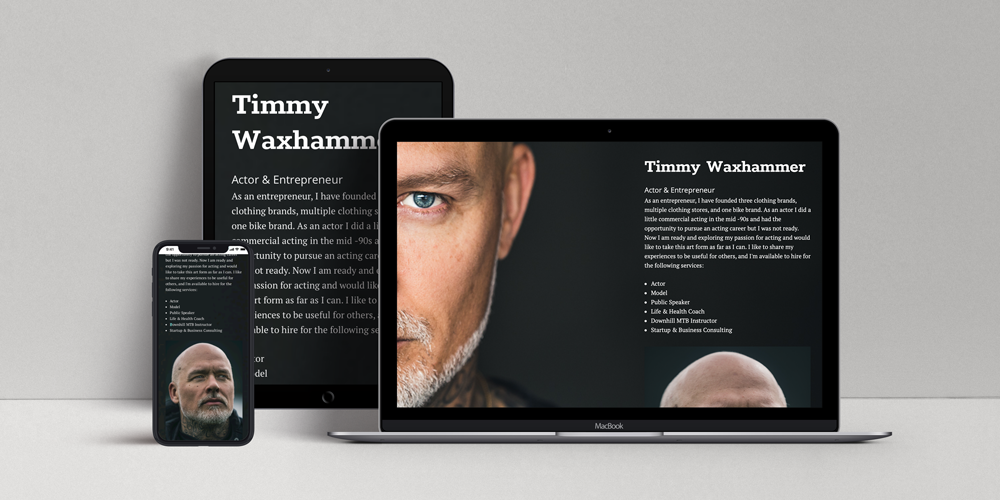 Timmy Waxhammer is an entrepreneur turned actor ready to share his talents with the world.
Why We Like It
Timmy's portfolio is simplicity personified. The site immediately captivates and captures the eye with its beautiful layout, aesthetic, and elegant design.
The first thing to draw you in is a stunning and unique portrait that takes up the entire lefthand frame of the website.
A simplistic layout, all the necessary information is displayed down the right-hand panel where each section flows seamlessly to the next.
All text is broken up with videos and images which include his showreel, a short film for the adrenaline junkie, and a highly authentic biographical documentary.
Conveniently, Timmy has made his SED card available for immediate download as a PDF. An SED card is essentially a model's business card. It contains a picture portfolio, as well as all the necessary information an agent might look for to consider casting. And thanks to the download tool, it's all just one click away!
The services offered by Timmy are clearly highlighted as well as his contact information and social platforms using the Onepager social integration tool.
This site is short, simple, and to the point. If you are looking to showcase your work, create a portfolio, and have an online presence—you can certainly take inspiration from this Onepager.
Congratulations, Timmy. We wish you the best for your future!
Ready to showcase your business or brand?
Create a simple small business website with Onepager
Start Building