Featured Onepager: Gardening Services WA
The grass is always greener on this week's Featured Onepager!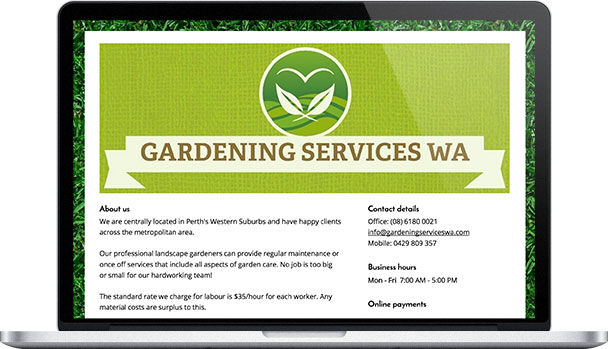 Gardening Services WA is a local gardening and landscaping business in Perth, Australia.
Why We Like It
Maybe it's because we've been looking at snow a little too long over here in the ol' US of A, but there's no sight for sore eyes greater than freshly cut green grass right now. This is the perfect background: simple, sharp, vibrant, and thematically connected to the business. You really can't ask more of a background image. Paired with the lime green used in their logo/header image, it makes the whole site bright and friendly. Even before reading their copy, which is wonderfully welcoming while being straightforward, we have good feelings about Gardening Services WA. It's pretty amazing what a little bit of color can do, especially alongside an already well designed page.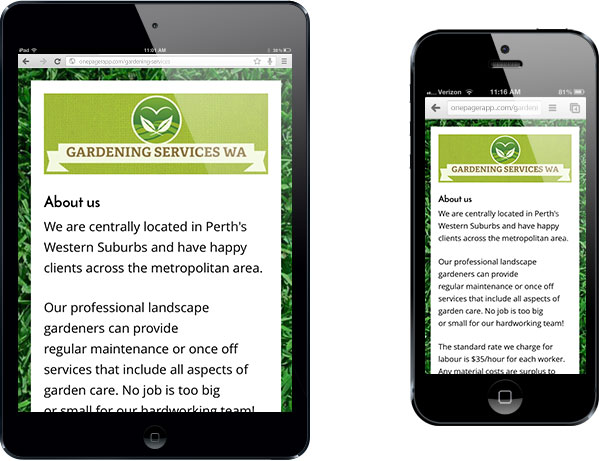 Gardening Services WA has made use of our Payment option, which you can find right below the business hours in the sidebar. Not only are they making their page easy to navigate for prospective customers, but they're making it convenient for returning customers as well. Instead of having to scroll down to get there, the PayPal button is easily identifiable to those who need it. From your first visit to their site to the last step of a project, Gardening Services makes the process as simple as possible.
Congratulations, Gardening Services WA, you're anything but garden-variety!
Ready to showcase your business or brand?
Create a simple small business website with Onepager
Start Building