Getting Your Small Business Started
As a follow-up to our survey for Shared Experiences of Small Business Owners, we have written up a series of helpful articles addressing the concerns that small business owners share.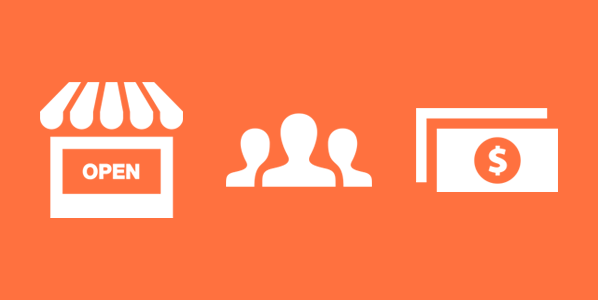 The beginning is the hardest part. Maintaining a successful business model over subsequent years can be tough work, but creating the foundation is intimidating because it takes a lot of education (which turns into knowledge), and persistence (even when the future seems scary). Luckily the Internet is on our side, and there are thousands of resources and experts lingering around in places specifically designed to help you succeed. In fact, we're one of them. So let's start at the beginning, hone the details, and get your small business up and running—pronto.
Even though money might seem like your biggest obstacle—26 percent of the small business owners that we surveyed said this specifically—there are a few things you can (and must) do even before you start to finance your company. First and foremost, make a plan. Starting a business is exciting, but the beginning stage is not the time to make impulse decisions. To begin formulating your plan, ask yourself very general questions about your company and its goals, and write your answers down on paper. In business speak, this document is your "business plan." Some business plans might be more detailed than others, but generally speaking, all plans should begin with an outline of the nature of your business. Here are some questions to get you going:
What are you selling?
Whether you are selling a product, a service, or both, you need to know what it is and be able to tell others all about it. If you are selling a skill, this is the time to describe that skill in writing. If you are working with a product prototype, define its parameters in detail.
What is your goal?
Outlining a goal for your business will help you get things going now and keep them moving later. Goals can run the gamut and they can also change over time. Try to choose one goal that is all encompassing, as well as a few goals that are incremental and attainable. This means you'll have one "big picture goal" and a few "small step goals." Here are a few examples:
Big Picture Example Goals
I'd like to sell my products, market my work, or provide a service.
I'd like to sell my products, market my work, or provide a service in order to make a profit.
I'd like to sell my products, market my work, or provide a service in order to help my community.
I'd like to sell my products, market my work, or provide a service for (fill in the blank) reason.
Small-Step Example Goals
Generate start-up costs.
Produce X amount of product or material.
Provide X amount of services.
Create buzz amongst influential people in the field.
Attain a loan to keep up with customer demand.
The smaller, more-attainable goals might change as your business does. These goals are in line with the concept of agile business development, which refers to a process that involves reacting and changing according to a business's needs, as well as focusing on collaboration and the completion of tasks. Likewise, goals that are financial in nature will certainly change as your business reaches certain milestones. Seek out experts in your field to see if your goals are reasonable. Yes, the details of your goals can be fiddled with later, but success is much more likely if you're aiming for a target that you know well, so spend some time thinking about what you want, and how you're going to get there.
What is your intended marketplace and what is that marketplace's need?
Once you've got your goals sorted, think about how you're going to achieve them based on the marketplace you're entering. Some businesses need to set up a brick-and-mortar store in an actual space, while some are better off with a virtual portfolio or website. If you're looking to satisfy an underlying community need, such as your neighborhood's lack of local produce, then you need to begin plans to set up a location that carries said produce. If, on the other hand, you'd like to create a niche market for an internet-based service, you'll need to begin with creating a web space. While you're doing this, remember to keep in mind what it is that sets you apart from the crowd.
Within that marketplace, whom will your business serve?
This might be an organization, a consumer, or even another business. Do some analysis of the marketplace you're entering. Describe your target consumer, customer, or client; the size of the market; its general demographic features; and the nature of your competition. You may have one sentence of text here, or significant charts and graphs. Every business is different, but chances are that carefully answering these questions will take a substantial amount of time, and you'll learn more about what you don't know than what you do know. Fill in all of the gaps, and consult small-business experts if you have any questions, or if you just need reassurance that you're on the right track.
Now that you've outlined what your business is all about it—and you've sought out a second opinion on your business plan—we can start to talk about finances. From the very beginning, you should be thinking about timing. If your product or service is trend-driven, proceed with caution. The world is filled with fickle people who change their minds often. What's "in" today might be "out" tomorrow. With that said, solid ideas, hard work, creativity, and persistence often pay off. If your service is seasonal, try to capitalize on the high season, but remember to consider the downfalls of the low season. Enter the field when you have enough experience, instead of before you are ready. Many businesses are prepared for recessions because they've gained profits and saved money over previous years, but starting a business during a recession is harder than usual. With all of these factors in mind, here's what we recommend when financing your small business:
Startup Costs
Start thinking about the capital, or funding, that you'll need to get going. This is your "start-up cost." To get an idea of how much money you actually need, create a budget that outlines your first year of work. The report should describe, in detail, how much money you need to open up shop, as well as how much you need to stay open. Some companies have very little start-up costs, while others need heavy equipment and a full staff. Consider every possible factor when you create this budget, including advertising, equipment/supplies, insurance, legal fees, licenses, rent, and utility costs. If you're feeling strapped for cash or you need to borrow money, you have a few options:
Bootstrapping applies to small businesses with no outside help in terms of finances. These companies depend on the owners' personal finances, or the business's new revenue to keep them afloat. For many businesses, this means stretching current resources as far as possible through smart and productive cost cutting such as hiring freelance employees as opposed to full-time help.
Find an angel investor—a person who is able to provide you with start-up capital as part of their investment portfolio.
Seek out information about starting loans. 7a loans are available for small for-profit businesses in the United States that meet certain requirements and demonstrate a need for the loan. Microloans are available through local, non-profit lenders to be used for working capital, inventory, furniture/fixtures, and equipment. Visit sba.gov for a list of local participating lenders.
Federal grants aren't available for start-up costs, but are available later in the process. Grants are highly variable based on state and local programs, and often require businesses to combine the grant with loans or other financing options. Visit grants.gov for more information.
Business Structures
Choose a business structure. Your legal options for small businesses are:
Sole proprietor: someone who owns an unincorporated business by himself or herself (irs.gov)
Partnership: a relationship between two or more persons who join to carry on a trade or business. Each person contributes money, property, labor, or skill, and expects to share in the profits and losses of the business (irs.gov)
Limited Liability Company (LLC): a business structure allowed by state statute . . . Owners of an LLC are called members. (irs.gov)
Cooperative: a business or organization owned by and operated for the benefit of those using its services (sba.gov)
Corporation: More complex and generally suggested for larger, established companies with multiple employees (sba.gov)
S Corporation: Similar to a C corporation but you are taxed only on the personal level (sba.gov)
Register Your Company
Sole proprietors and existing corporations/LLCs: If you'd like your business to be named anything other than your own name, you need to register a DBA ("Doing Business As"). Registration laws vary by location, so check with your local (county) government about where to register your business. Corporations/non-profits/LLCs/partnerships: You may need to register with your state. Check with your state government.
Licenses and Permits
Get the correct licenses and permits. Licensing depends on your industry and location, so visit sba.gov to find out about what's legal, and what's not, on both the federal and state level.
Pay Your Taxes!
Start by getting a tax ID online at irs.gov. Your company type determines what tax return you need to file (income tax, self-employment tax, excise taxes, etc.). Your "tax year" is simply a term for the schedule by which you pay your taxes. You can pay taxes over the course of a calendar year (12 consecutive months, January 1-December 31) or over the course of a fiscal year (12 consecutive months ending on the last day of any month except December).
Now your business is up and running, and everything's going smoothly. Congrats! Don't forget to constantly check in with the legality of all of your business's moving parts. Learn the basics of everything from marketing/advertising law and intellectual property law to workplace safety and privacy law. Keep everything clean and consistent and you'll be way ahead of the game in the future. In our next post, we'll address another biggie (and possibly the biggest): how to get the customers you want, and what to do in order to keep them by your side.
---
Articles In This Series
16 Best Small Business Apps To Save Time With Administrative Tasks
Creating A Marketing Strategy That Will Help Your Business Succeed
Where To Find Support As A Small Business Owner
Best Ways To Acquire And Retain Customers
The Survey Results Are In: Small Businesses Share Similar Concerns
Small Business Shared Experiences Survey
Ready to showcase your business or brand?
Create a simple small business website with Onepager
Start Building