Featured Onepager: Giving Tree Handmade
This week's Featured Onepager sure is a tree-t!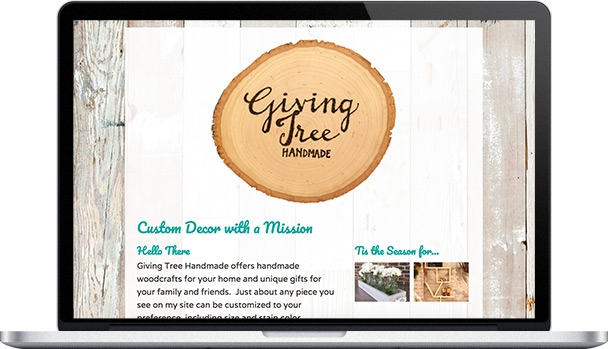 Giving Tree Handmade designs customizable woodcrafts and unique gifts for your home.
Why We Like It
With its beautiful handmade gifts, it's no wonder Giving Tree's website is full of photography, but a closer look reveals the many ways they use pictures to enhance their page. A slideshow towards the top gives a great highlight reel of products they've made for clients. When you scroll down a little more, a tiled gallery allows customers to go more in-depth, using captions to detail materials, features, and price for each item. The captions are especially helpful for customers ordering online, but for those in the Lakeland, Florida area can check out locations where they can buy Giving Tree products in person. The photos link to the stores' websites, which achieves three important things: 1) providing interested customers with information about these shops, 2) supporting the shops by driving traffic to them, and 3) improving Giving Tree's SEO.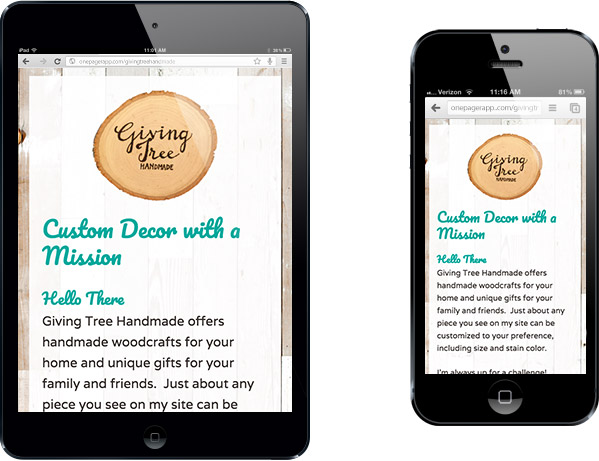 Once customers have settled on an item, Giving Tree makes it super easy for them to purchase items right away. The "Buy" section in the main text area conveniently lines up with the contact form in the right sidebar, so it's clear how to get in touch about orders and special requests. Once a customer receives an invoice, they can easily pay with the PayPal button. We also love the "'Tis the season for", which offers timely suggestions for gifts. And if you needed any other reason to make one of their lovely woodcrafts your own, did we mention that a portion of all proceeds go to charity?
Congratulations, Giving Tree, on a site that keeps giving!
Ready to showcase your business or brand?
Create a simple small business website with Onepager
Start Building