Featured Onepager: Goodale's Bakery
This week's Featured Onepager takes the cake!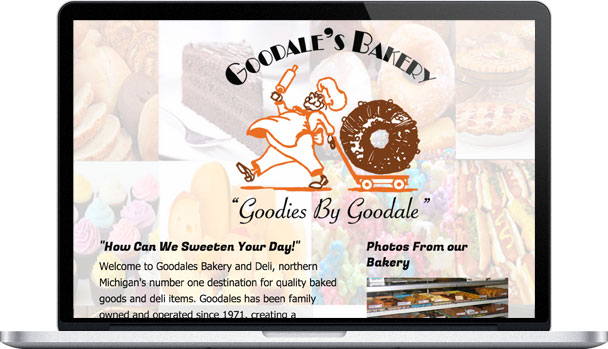 Goodale's Bakery is a family-owned bakery which has been bringing northern Michigan delicious treats for over 40 years. They've made finding their info online as easy as picking up apple pie from their storefront.
Why We Like It
Man does not live by bread alone, but we have a feeling he'd do just fine if he had some of Goodale's homemade cookies, donuts, and fudge in the mix. In a time where you can order lunch from your phone, a local family joint is an especially precious commodity. Goodale's site is a great reminder of how an online presence can embody a local company's personality, rather than sacrifice it. It's clear and easy-to-navigate while maintaining the warm feeling of a family-owned bakery.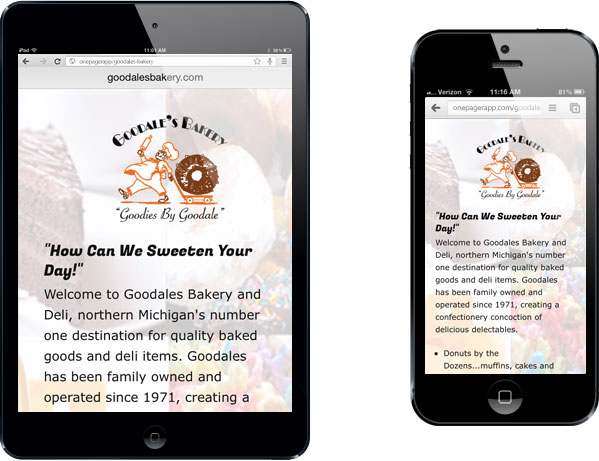 If you read the bulleted list of items they offer, you'll see that each entry is a rhyming couplet. How cute is that? It's that extra bit of care that you just won't find at a chain. They also make great use of the right side bar by providing basic information up top. The slideshow gives you a preview of all the goodies they offer. Since you'll probably want to satisfy your sweet tooth right away, the store hours and map right below will make sure you drive there before you start salivating in public.
Congratulations, Goodale's Bakery—you got all the ingredients of a great site!
Ready to showcase your business or brand?
Create a simple small business website with Onepager
Start Building