How Harvester Barber Shop Used Onepager to Bring an Old-Fashioned Family Business Online
Amy Balentine built a website for her dad's barber shop as a Father's Day gift and found a simple website builder that worked across generations.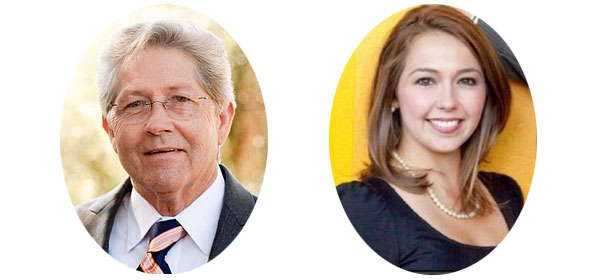 After recently moving back to Kansas City from San Francisco, Amy Balentine was thinking about a father's day gift for her dad.
"I just started to think I should do a website for him," Amy recently told us in a phone conversation.
Amy's dad George is the owner of the Harvester Barber Shop in Saint Charles, Missouri. After working at the shop in the mid 60's, he bought it a few years later and has owned it ever since.
"My dad is 70 and being that he's a barber, he really doesn't have much use for email," she said. "He doesn't have an iPhone or a Facebook account. He wasn't very familiar with Yelp. He didn't need a whole bunch of links or features. I had to explain to him that this is like a digital form of a billboard or newspaper ad."
Here's the rest of our conversation about how she used Onepager to bring her Dad's business online.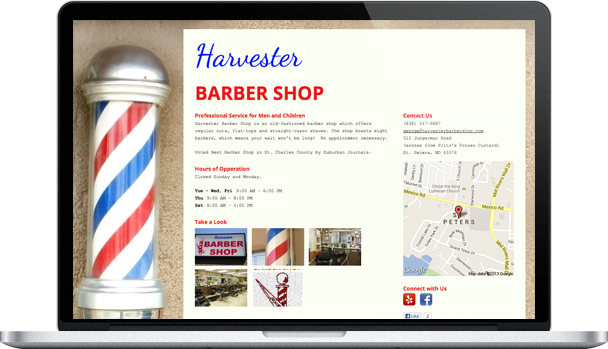 When you decided to build the website for your dad, did you have any previous training?
When I was an undergrad at the University of Kansas, I took a few classes. That was in 2001, so they were super basic and it was really hard. I was like, "I can't build a website. There's no way I can teach myself this." I had to find something that was plug-and-go.
Why did you end up choosing Onepager?
I guess there are three things: it was a good price, it was easy to use, and I didn't have to promote Onepager anywhere on the page. I didn't have to plaster the name across the bottom or top or anywhere on the screen. That was super important because I didn't want it to look cheap. Having a someone else's name across the bottom, to me, cheapens your brand. Even if it's just a barber shop, I didn't want that on there if I didn't have to, and that was a great selling feature.
Was it a tough sell to your dad?
Yeah, but it worked out. Even the font that I chose, if you looked at the website recently, it almost looks like a typewriter font because I was thinking, "If I make this very basic, my dad might just go for it." He said go ahead and publish it, and now we're up and running.
What did your dad think of the website when you published it?
We're really only in the second month. My dad doesn't act too excited, but my mom says he's pretty excited about it.
It's an old-fashioned barbershop in every way. He's got pews along the side of the wall, and you just go and sit and you wait for the barber that you want. While you're sitting there, you kind of talk about stuff going on around town. I made him little flyers that say, "Check out our website." Then in the front it says, "Like us on Facebook." People look at those while they're waiting.
What kind of response have you and your dad been getting about the website from customers?
One positive thing is that we're giving potential customers a new way to reach him and his barbers—10 on staff—before going into the shop to see if they can get the cut they're looking for.
One potential customer was getting married in September, and he had ten other guys he wanted to bring with him: father-in-law, his father, and then all his groomsmen. He wanted to do straight razor shaves for them. While the shop has eight chairs in it, not everyone can do a straight razor cut. Beyond that, it's just not a great idea to do right before your wedding. Unfortunately, men, especially younger guys, can get nicked if they have bumps on their faces already, which causes razor rash.
My dad was like, "I just don't want him to have all these guys get razor burn right before there's a wedding. They'll ruin the pictures." I was like, "Okay, well I'll try to delicately explain that to him." So we were up front, and the groom understood. He said thank you, and they went to another destination.
Another person was asking about flattops. I don't know why he needed a flattop, but he did. I was like, "My dad's really good at it. He's on it. Go ahead and go on in." You know that that person went in.
From a customer's standpoint, I'd imagine posting hours of operation online would be very important. Given that it follows the traditional barbershop model of being closed Sunday and Monday, it's something I'd want to know before I showed up.
Hours are the number one search for Harvester Barbershop, so I would hope that my dad's call volume related to hours of operation has gone down.
It is confusing because, again, it's very old-fashioned to be closed on Monday, but it kind of goes with the traditional barber shop thing. When he was closed, people could never remember that. He says that the number one question he'd get when the phone rang was "What are your hours today?" He has three days with the same exact hours, but how would people ever remember that they're Tuesday, Wednesday, and Friday?
In closing, you've also used the website to bring some of the other Harvester traditions online, like First Haircut Certificates. Tell us about those.
Yeah. My dad has a whole bunch of yellow copies of First Haircut Certificates in the barbershop that he's been handing out for years. I was like, "Well, if there are moms around my age, what if you just told them to go to the website? They could print it out themselves when they get home."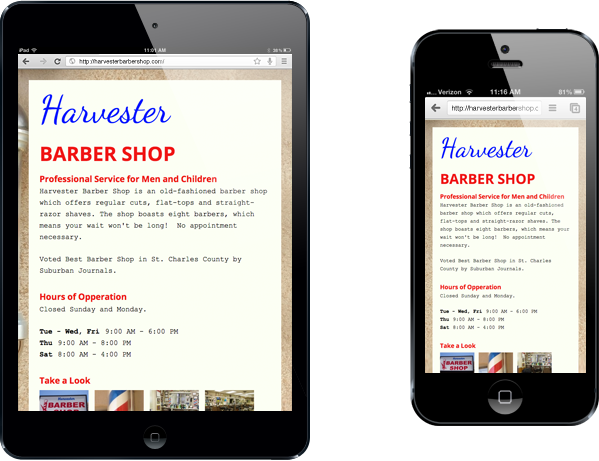 Ready to showcase your business or brand?
Create a simple small business website with Onepager
Start Building