How to Choose a Great Background for Your Onepager
Getting your background image right is a great foundation to build a nice looking simple website for your small business.

Note: This is part 1 of our series on how to create a great looking Onepager. See the whole series here.
Our themes offer several nice background options. While you can't go wrong with them, definitely consider changing your background to something custom.
Using a photo as your background
Many of our favorite backgrounds are photos from the actual business the website is for. That doesn't necessarily mean a photo of the front of the business's physical location, but instead it could be a creative shot of an aspect of the business.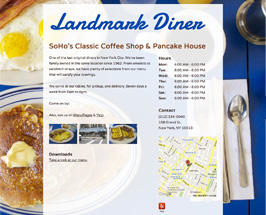 Landmark Diner
Landmark chose to have one of their signature dishes on their very memorable blue table tops as the background. Not only does this give an interesting background with great colors, but since that's actually their table, any customer familiar with it will instantly recognize the connection. This gets into creating a website that brings delight to the user, but that's a topic for another day.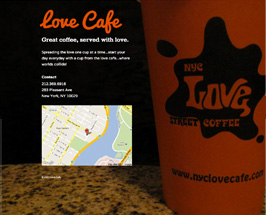 Love Cafe
Love used a very artistic photo of one of their memorable coffee cups for their background image. Their product and their brand are instantly recognizable. There's no doubt about what the business does and it's communicated with no words, just the image.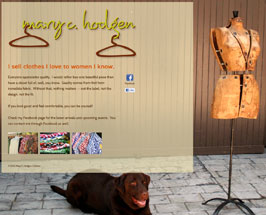 Mary Hodgen
Mary has a great photo from her shop as her background. You can instantly tell she does clothing design and with the dog at the bottom, you can assume she's friendly and easy going. The great composition of the photo tells you that she has a great eye for design. It's amazing how much you can tell about her business from this photo!
Using a pattern as your background
If you can't think of a great photo for your business or if your business just isn't suited for having a photo as the background, consider using a nice patterned texture.
Here are some of our favorites: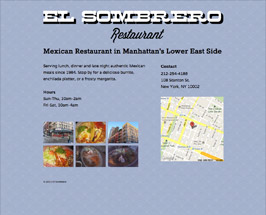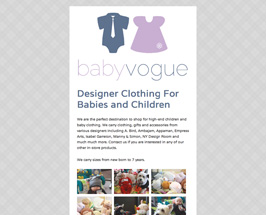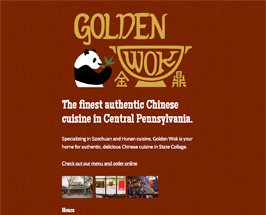 If a pattern is the way you'd like to go, we recommend checking out a site like Subtle Patterns for a background to use or to just find some inspiration. Creating a pattern can be a lot of work to get it right, but doing one yourself will give you a very unique look.
Head back to the series overview to learn more about how to make your Onepager look its best!
Ready to showcase your business or brand?
Create a simple small business website with Onepager
Start Building