How to Transform Your Charger Side Hustle Into a Scooter Business
Sometimes, entrepreneurship involves months (or even years) of waiting for the right idea to strike. But other times, that sort of revelation just falls into your lap.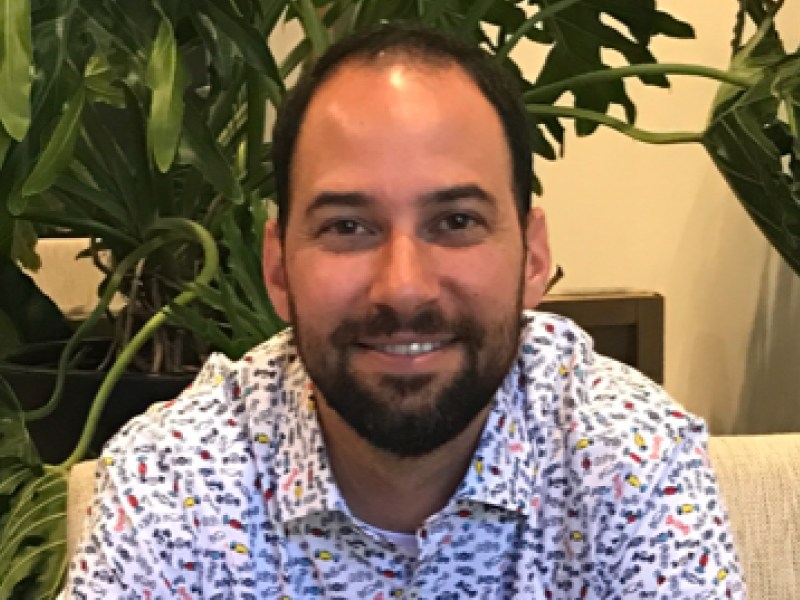 That's the way things worked for Justin Gottuso, who is the founder of Fly Scooters, which offers affordable scooters for college students to quickly get around campus.

As a full-time hospital chaplain, running a scooter business might seem like a far cry from his day job. However, Justin has found that it's a surprisingly natural fit with his passion for people and service.

Read on to find out more about Justin's unconventional journey to business ownership, and what he has in store for the future of Fly Scooters.
A Passion for Service: How Justin's Career Led Him to Scooters
Justin's spirituality and faith have always been cornerstones of his life, making his career as a healthcare chaplain a no-brainer. In this role, he's worked in hospitals and hospice, counseling people on death and dying, grief and loss, and change and spirituality.

Undoubtedly, his heart is in that work. But, he also admits that chaplains don't earn a large salary, which can add some complexities to finances—particularly since Justin resides in Los Angeles, which has a notoriously high cost of living.

In 2018, he was looking for a way to earn some cash on the side, and he found an opportunity to take Bird scooters (a popular scooter rental service in many metropolitan areas) home with him and charge them overnight so they were ready to use again the next day. He earned five dollars per scooter.

It wasn't long before Justin wanted to scale up his operation. When he went online to purchase additional scooter chargers, he noticed that there was a surprising level of demand for them. He bought several hundred, and within a few weeks, he was sold out.

That was encouraging, but Justin worried the market might be a little too small. "This market is a little too niche," he explains. "I needed something bigger."

It was then that he pivoted from chargers into scooters—and Fly Scooters was born.

For those who think there's no overlap between Justin's day job as a chaplain and the side business he's passionately growing, think again. Justin prides himself on the fact that his business serves a real need for a previously underserved area: college campuses.
Cruising on Campus: Finding a Scooter Niche
Since launching his business, Justin has focused on marketing his scooter business almost exclusively to college campuses. But why? Well, there are a few reasons.

Part of it deals with logistics. The task of securing insurance for a scooter company can be challenging, and Justin admits that campuses are a far safer area for scooters, as there's mostly foot traffic—and not necessarily dense streams of vehicles whizzing by at high speeds.

With an estimated two million college students in California alone, there's also a ton of opportunity and demand, especially since most students need to get across oftentimes expansive campuses efficiently.

However, there's an even larger cause at play for Justin: he wants to provide a service to an area that's often overlooked. "I want to go somewhere where there's a need that somebody isn't already meeting," he says.

He mentions that a few other scooter companies (like Bird and Lime) have targeted universities, but they mainly go after the big names and not the state schools or community colleges where Justin has turned his attention. "I have a soft spot for local, but also for the underserved. I want to help them out," he adds.

So, as he gets his company off the ground, he's mainly focused on the smaller schools—such as California State University, Northridge. Lime had previously serviced that campus, but recently ended their agreement. "They had just pulled out, and I thought, 'Oh, perfect timing!'" Justin explains.

Knowing there was a void that needed to be filled, he attended Industry Night (a bi-annual career fair and networking event) at California State University, Northridge when Fly Scooters was just an idea rattling around in his brain.
The Power of Connections: Why People Are the Secret Sauce of Justin's Business
Justin may have attended that Industry Night on a whim to simply collect some feedback about his business idea, but it ended up being a highly productive and impactful night for his fledgling company at the time.

He had almost no money to promote his business or deck out his booth, and was competing with some major players (such as Universal Studios) for the attention of students.

So, Justin relied on his skills as a chaplain and his passion for people to start to forge some relationships with the event attendees. The first person he talked to was a student named Daniel, who mentioned he worked as a behavior therapist for a child with autism. Since Justin had some prior knowledge in that area, they connected over that shared experience.

"Our first conversation, we didn't talk once about scooters," Justin says. He focused simply on connecting and conversing.

Daniel came back a little while later. "He said, 'I talked to a bunch of people here, and nobody's talked to me like you did. They were just talking about themselves, and I felt like they were trying to use me,'" Justin recalls of their interaction. It was at that point that Daniel opened up a conversation with Justin about his business.

Following that exchange, Daniel left Justin his resume. Justin called him a week later and Daniel now works as one of the company's two interns.

That unexpected experience reaffirmed Justin's belief about his business, which he still repeats in meetings. "It's not about the scooters," he says. "It's about the people."
Keep on Wheelin': What's Next for Fly Scooters?
Fly Scooters hasn't sold anything yet, and Justin says they're still getting the building blocks in place after having spent a large portion of the summer figuring out which scooter they wanted to bring to market.

That was one area where Justin hit a snag, after 10 scooters he had personally purchased were stolen the day before the team was slated to test them.

But, Justin admits that it was actually a blessing in disguise. One scooter was shipped late (and, as a result, not stolen), and it ended up being the best option that met all of their criteria. "That's one of the things I've learned along the way—that every curveball has a silver lining," he shares.

Next on the docket is securing insurance and then hopefully getting pre orders, so that Justin can use that evidence of demand to approach investors for some additional funds.

After bootstrapping his initial scooter charging business, he knows he's not willing to take on that much risk again. "You're getting into very risky debt, and you don't know if the business is going to work yet," he says.

But, while all of those future goals certainly help keep Justin motivated to keep hustling, he finds the greatest boost in knowing that his business is doing some good for students, his employees, and the environment.

And the icing on the cake? The entire process of starting the business has taught him to trust himself. "I finally came to a point where I finally trusted me. I trusted that inner voice that was like, 'You got this, man,'" he says. "I faced challenges, but I just keep going."

And, as it turns out, his story is inspiring others to bet on themselves too. The person Justin bought those hundreds of scooter chargers from when he was first dipping his toes into business ownership recently emailed him to let him know that Justin's own venture inspired him to start his own company.

"As I step out, it's so great to inspire and encourage other people," he says. "This is my story. This is my journey. This is what I'm putting into the world."

Ready to showcase your business or brand?
Create a simple small business website with Onepager
Start Building