Interview with Richard Morisson, he started his own company to create Onepagers for local businesses
Richard Morisson is an independent web developer based in San Francisco who uses Onepager to create websites for local businesses. Here's what he told us about starting his own company, helping others expand their businesses, and why a simple webpage makes all the difference.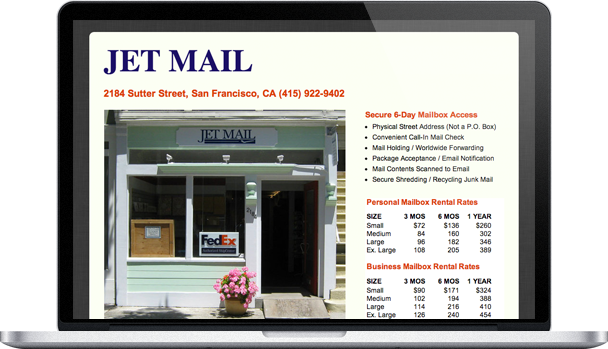 Tell us a little about your web development business and why you started it in the first place.
I was working on a website to market my resume writing services in 2012 and found Onepager through a Google search. I was really impressed, so I started building my website with it. But I got so excited about Onepager itself that I put my resume writing service on hold to see if I could instead design websites for other small businesses. Onepager was more intuitive and easier to use than WordPress or WebSite Tonight from GoDaddy. Now I'm working on my fourth website for other small businesses.
How did you build your client base?
I started by individually approaching businesses in my neighborhood. My first client was a shoe repair shop, whose website I developed without any prior experience. I had created a screen print of my resume website to show the store owner what I'd do for his business. He hired me, and then his cousin, who owns another shoe repair shop on the other side of town, hired me too. Once I finished their sites, I created printouts of each and developed a sales portfolio to present to other brick-and-mortar stores.
What do you think are the most important qualities of your business?
Offering an affordable solution for creating a website and bridging the gap for clients who, in many cases, aren't technically savvy, yet want to market their businesses on the web. They have an awareness of the internet because they hear that customers find them on Yelp, but it can be daunting to figure out how to create a robust online presence. I basically serve as a web marketing consultant who explains how the internet can serve them in a way they can understand. In addition to design, I also do the copywriting, photography, industry research, and keyword development. I offer a comprehensive service which saves them the time it would take to create a website themselves.
It seems that creating a website in the first place can be a major obstacle for small businesses. Why do you think that is?
In many instances, they've been approached by independent web developers like myself, but have been quoted very high development rates, and the process was made to sound very complicated. Since Onepager is so user-friendly and allows the developer to get the website up quickly, I can offer my service for hundreds of dollars instead of thousands. So the obstacle was just the illusion that having a website was out of their reach. In some instances, clients may even be able to maintain the site on their own. For example, if six months down the line they have a price or schedule change, they can just go through the Onepager dashboard and make the adjustment on their own. It's really very easy.
What are other common issues you think small businesses face now?
It seems like I'm relating everything back to the web, but I'll say this anyway: traditional printed Yellow Pages are almost extinct, so many small businesses have been left in limbo by not having a web presence. By creating a small website that's appropriately sized for them, they can have visibility again. And since leasing a retail space can be extremely expensive, small businesses need to offset that cost with increased profits to stay afloat. They're faced with getting new customers and marketing their business. San Francisco, where I live, has a somewhat transient population. There's a certain attrition level with customers, so businesses need to constantly attract new ones.
As a customer, what's your favorite business in San Francisco and why?
My local gym, Pacific Heights Health Club. It's small, independently owned, and they have great customer service. It's a beautiful facility, a converted residential house with really great interior design. San Francisco has several large, franchised fitness centers too, but they tend to be much busier since they're on the main streets. My gym is tucked away and close to my home.
And then another favorite business of mine is Onepager. Does that count?
Well, it certainly leads nicely into the next question! You've already described some things you like about Onepager, but is there a standout aspect or feature you find most helpful?
For small retail or service businesses, the amount of copy needed on a website is very limited—you have store hours, an About section, you might have a price list. I like the fact that Onepager puts that information on one page. It would actually be counterintuitive to have a multi-page website for such a brief amount of information. If you were doing a website for Macy's or Best Buy or a big e-commerce site, that's a whole other set of needs. For a small business, it's much easier for visitors to view everything in one place.
Onepager also has a really intuitive, logical layout, so visitors usually see a picture of the storefront and its location on Google Maps. Since local residents are using smartphones or GPS to find these places, having the map alongside the photo makes businesses easily recognizable. And the telephone number is right there too, so if you're using a smartphone, you can just tap it to get directly connected.
Another thing is the ability to capture email addresses of visitors and use Onepager's newsletter function to reach them. This is especially useful for time-sensitive messages like holiday sales when you need to get the word out quickly. Since it's a built-in function, you can send out an email campaign in minutes. Onepager really fulfills it's mission statement in serving the needs of small businesses by offering so many simple, elegant features. It makes both initial website creation and ongoing maintenance very easy.
Have your clients seen changes in their businesses since launching their Onepager sites?
Yes, their websites perform really well by showing up on the first page of Google search results. In some instances it'll be number one, in other instances their Yelp listing will be number one since Yelp is such a popular tool. If that's the case, the original website ranks shortly after. It adds a great deal of credibility to have the business' own dedicated website appear on the first page of Google results.
Onepager also has a How Your Site is Performing feature on the dashboard, so I can see that my clients' unique visits have grown remarkably since launching the page. Most of these unique visits are coming through Yelp, which means people with an established interest in their company are taking an extra moment to look at the site. It's a great accomplishment. It's proof that their online marketing efforts are effective and that Onepager is continually working on their behalf.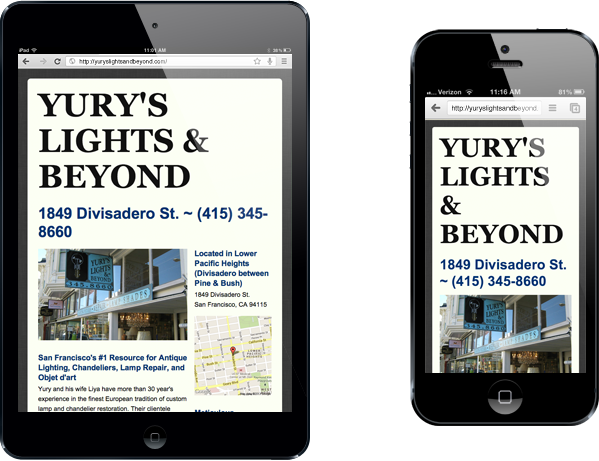 Richard Morisson designs Onepager sites for clients in all geographical areas. Note: clients outside of the San Francisco Bay area may need to provide their own photography. Contact: richmor415@gmail.com
Ready to showcase your business or brand?
Create a simple small business website with Onepager
Start Building