Featured Onepager: Kula & Kō Confectionary
We're sweet on this week's Featured Onepager!
Kula & Kō Confectionary bakes delicious pineapple cakebars inspired by the history of its home—Hawaii.
Why We Like It
Maybe we're getting a little ahead of ourselves since it's only early May, but visiting Kula & Kō's website sure has us antsy to start planning our summer vacation already. As if Hawaii wasn't already on our list of dream destinations, Kula & Kō has given us another reason to set a New York City to Honolulu price alert on kayak.com.
Kula & Kō's website is a prime example of how simple, elegant design goes a long way. When you have such an appealing and straightforward product like their delectable pineapple cakes, your website should let it take centerstage, which is exactly what Kula & Kō has done. The simple color scheme and background pattern creates a soothing atmosphere, allowing visitors to focus on the site's excellent copy. First, we learn about the ingredients, flavors, and process behind the cakebars themselves. Once they've sold us on the deliciousness, their "Our Story" section provides information about the history and inspiration behind their cakebars, which allows potential customers to appreciate them on a more personal level.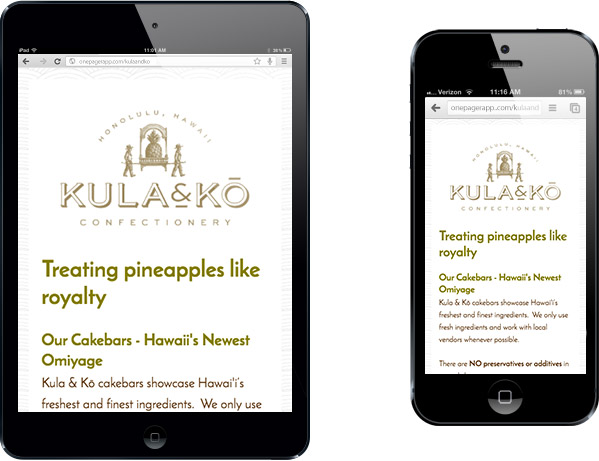 In addition to framing their product beautifully, Kula & Kō makes it easy to find the more logistical (but equally important) information. Between the helpful FAQs section at the bottom of the page and the clean, organized right sidebar, visitors can plan their trip to the Kula & Kō storefront in a snap. Additionally, the social media buttons and newsletter signup encourage them to stay updated on all of the confectionary's latest news.
Congratulations, Kula & Kō—you make great web design look like a piece of cake!
Ready to showcase your business or brand?
Create a simple small business website with Onepager
Start Building