Featured Onepager: Marcy Denker Landscape
This week's Featured Onepager isn't your garden-variety website.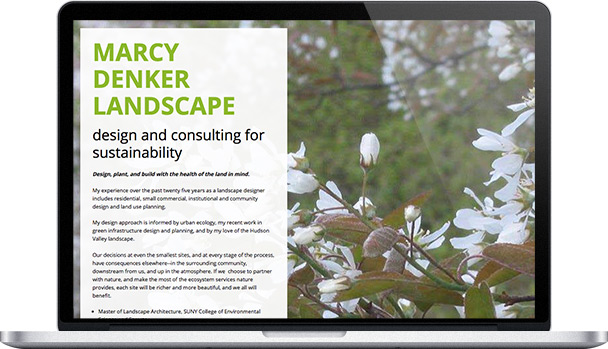 Marcy Denker is a landscape designer based in Nyack, New York, specializing in sustainability.
Why We Like It
They say the grass is always greener on the other side, but in the case of Marcy Denker's Onepager, we say that the grass is always greener on her site! And we can say that both literally and metaphorically, because not only is it envy-inspiring, but showcases her vibrant, eco-friendly landscape design.
The photography of her work speaks for itself, so we're gonna take a closer look at another masterfully executed aspect of her site: the copy. Between the header and subheader, we get a clear idea of her line of work, which elegantly lead us into the following introductory paragraphs. Marcy uses clear, direct language to describe her practices and philosophy, making a compelling case for why her approach is beneficial to communities the nature that surrounds them. Scrolling further down, we see a resume outlining her related positions. Under each title, she provides concise descriptions of responsibilities, projects, and accomplishments, making it easy for readers to digest.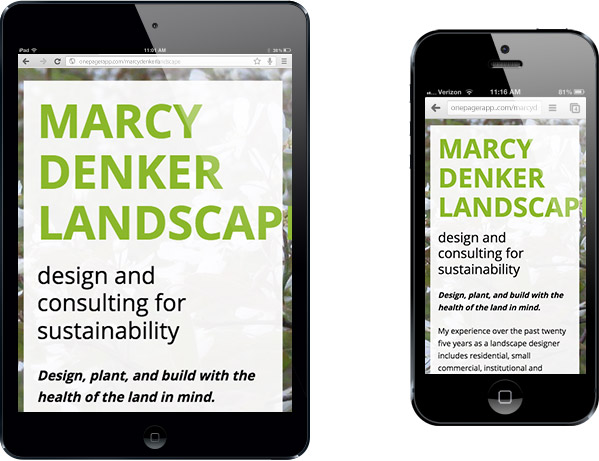 In addition to what she's written on her site, Marcy also supplies visitors with outside resources that further illustrate her experience and involvement in her field. In the local news section, she links to stories related to her work, as well as websites where visitors can find out more about Nyack's sustainability efforts. Linking to these allows Marcy's site to maintain its elegant simplicity, while pointing visitors to important information they might be interested in. It also further illustrates Marcy's passion for her field—it's easy to see that sustainable design is more than a job for her, which is exactly the type of consultant you want to work with.
Congratulations, Marcy, on a site leading the field!
Ready to showcase your business or brand?
Create a simple small business website with Onepager
Start Building