Featured Onepager: Marival Designs
This week's Featured Onepager is a real gem!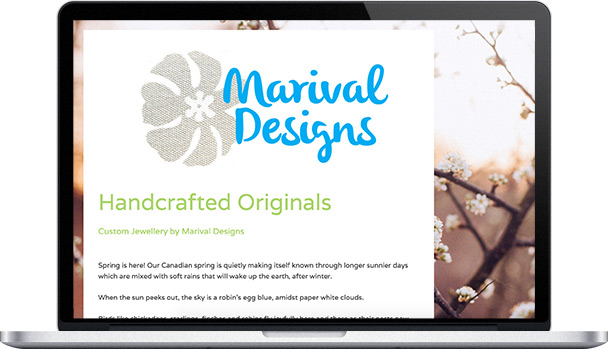 Marival Designs handcrafts beautiful jewelry in Ontario for customers all over the world.
Why We Like It
What light through yonder browser window breaks? It is the east and Marival Designs is the sun.
Excuse us for the romantic tone this week's post has taken, but seeing as Marival Design's most popular creations come from its Shakespeare Charms Collection, we couldn't resist a Bard reference. And since owner Valerie Wilson has designed such a beautiful website, Romeo-level gushing doesn't feel like too much of a stretch.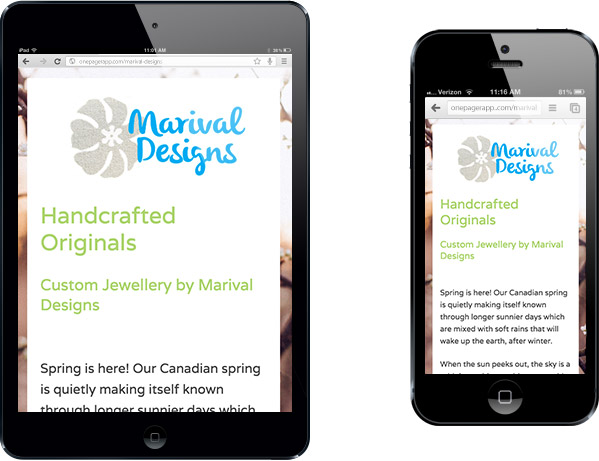 The first thing you'll notice is the background image of budding flowers in spring. Once you start reading intro copy, you'll realize that the photo isn't just something pretty to look at, but also thematically tied to Marival's latest collection, Rustic & Leather. The evocative language invites visitors into the world of Wilson's latest creations, and shows that she's not only a metalsmith, but quite the wordsmith too.
Further down on the page, you'll find a gallery of her wonderful creations, all of which live up to the description above, as well as give the flowers to the side a run for their money. Conveniently below is all the information you need to get your hands on these exquisitely crafted pieces. We could compare them to a summer's day too, but for now we'll just encourage you to see them for yourself.
Congratulations, Marival Designs, on a site worthy of a sonnet!
Ready to showcase your business or brand?
Create a simple small business website with Onepager
Start Building