Meet Laurie Scott, a Sarode Player Who Studied North India Classical Music with a Master for 25 Years
After returning to the States from India in her twenties, Laurie Scott wasn't quite sure what to do with her life. Luckily, she discovered the Ali Akbar College of Music in California and has been devoting herself to its music ever since. Now with a new website, she's teaching others about this form of music and its rich history.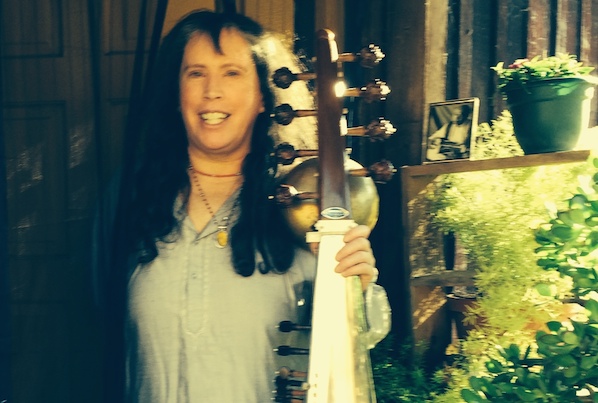 How did you become interested in North Indian classical music?
I was surrounded by music as I grew up. As a teenager, I attended a concert of Ravi Shankar, the great sitar player, and it completely enthralled me. It affected me like no other music has. In my twenties, I lived in an ashram in India. We had really great musicians come and perform. My love for the music grew from there.
And you moved to California when you discovered Ali Akbar Khan?
Actually, it was funny because I loved India, and I really didn't want to leave, but circumstances were such that I had to come back. I didn't know what I was going to do with my life. Then I heard about the Ali Akbar College of Music, and it sounded perfect for me. Without even seeing the school, I moved to California and enrolled. It turned out to be a wonderful school. Its founder and principal teacher, Ali Akbar Khan, was one of India's greatest North Indian classical musicians. I was fortunate to study with him for almost 25 years.
Wow! What was that like?
It was a fantastic experience. Music just flowed out of him effortlessly, like a waterfall. He had a very uplifting and beautiful presence. He welcomed everybody and taught hundreds of students, but there was only a small group of us that stayed for a really long period.
What role has music played in your life since?
My teacher left his body in 2009, and recently I lost three immediate family members within a year and half period, pretty much wiping out my family. It gave me new awareness of my own mortality. I needed to start living my life the way I really wanted. I quit a toxic office job that I'd been at for 11 years to devote myself completely to music.
Now I'm preparing to perform, starting out in small settings. I have some invitations to senior citizen homes and will gradually go from there. I certainly should have performed much more in the past. Now I'm really dedicating myself to that.
What does your day look like now that you can devote all your time to music?
I'm doing a lot of composing and recording. The music comes to me spontaneously. I write it down as notations, then play and record it. I actually just received my second CD, Indigo Sarode, from the manufacturer. I'm working on my third album now.
Overall, I'm still just starting out, doing a lot of thinking about what I need to do.
Your website has a lot of information about your teacher and his music. Does it serve mostly an educational purpose?
Yes, I wanted the music to be the focus, not myself. A loud, self-promotional website wasn't going to work for me. That's why I put myself at the bottom.
Do you see yourself adding new information about performances in the future?
I don't expect my music to really take off for a couple of years, but as things get busier, I'll set up a calendar. My second album is now available on my album page, which I've linked to at the bottom of my Onepager site. I think it's much better than my first because I was more comfortable with the recording process by then, and I was much more relaxed.
I saw that you linked to your SoundCloud on your website.
Yes, I was able to put some recordings up. I had no idea what I was doing. I'm totally computer illiterate, just gradually making my way along, but I was able to figure it out easily.
Any time I've had questions for Onepager, it's been a wonderful experience. Customer service is always very patient, very kind, and nothing ruffles them. A friend of mine recommended your company, and I am very happy that I have used you. People have told me they love my page, and that it's a really a positive experience for them.
I was listening to some of it while looking through your site. It was very relaxing.
If each one of us has more inner peace, it will spread out to others and make a much more peaceful world. It doesn't mean being lazy; it just means having a quieter and more tranquil mind. You can still multi-task, but if you can do it in such a way that you're completely serene, you're going to accomplish lots more.
Ready to showcase your business or brand?
Create a simple small business website with Onepager
Start Building