New Feature: Promotion Form
Our new Promotion form lets you set up contests and giveaways super quick!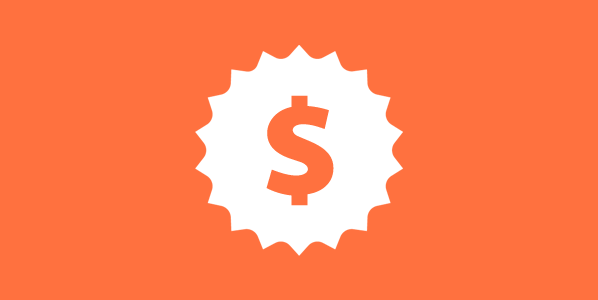 Maybe it's happened to you before. You're going through your day as usual when you suddenly realize it: tomorrow is the one year anniversary of starting your business. How could you forget? You want to do something special on your website—like maybe a contest or giveaway—but there's no time to design it from scratch. Never fear! We just released our Promotion feature, which allows you to create contests and giveaways all in a matter of seconds.
Quick setup, instant gratification
As with any of our content types, getting it up and running is only a matter of a little typing and clicking. Decide on the title and prize, select the required fields for visitors to fill out, add rules, then bam! You have yourself a promotion. And whenever a visitor submits the form, you'll get an email notification with their contact information, so you'll instantly know your promotion is working.
Promote anything
Like we said, what you promote is up to you! Want more Facebook followers? Offer a prize-drawing in exchange for clicking that iconic blue thumbs up. How about a holiday-themed promotion, like, say, a Labor Day sweepstakes? Nothing's stopping you, though we'd love to hear what a Labor Day sweepstakes is like. Even if you're just feeling generous and want to give away free ice cream, that's totally cool (but if you're giving away free ice cream, all we ask is that you give us a heads up so we can enter. It's been hot around here).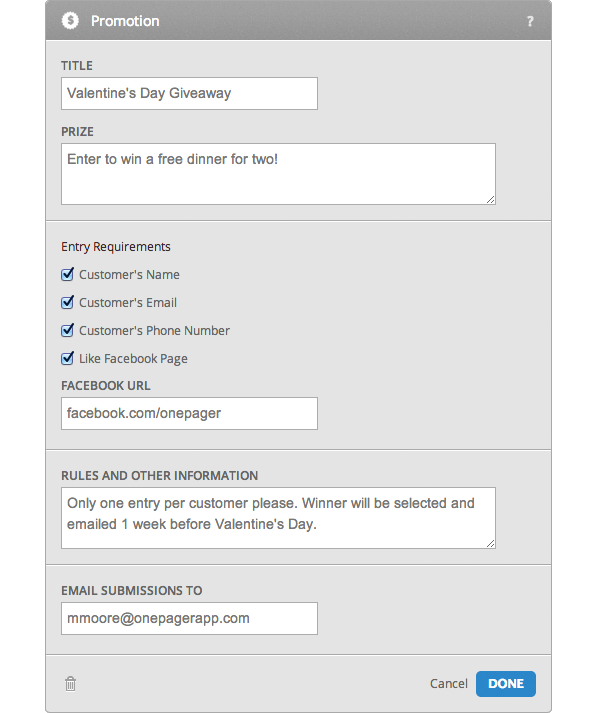 Take it to the next level
Have a website, but don't want to tinker too much with your homepage? Many companies find it useful to have a separate promotions page. This way, their homepage stays the same regardless of the themes or frequency of their promotions. Whether you're a current Onepager user or not, you can use us to create a unique, customized page exclusively for this purpose.
If you need ideas for events to create promotions around, we recommend checking out this site. And as always, we'd love to hear what you think!
Ready to showcase your business or brand?
Create a simple small business website with Onepager
Start Building