Featured Onepager: Nurse Nikki
This week's Featured Onepager is the picture of good health!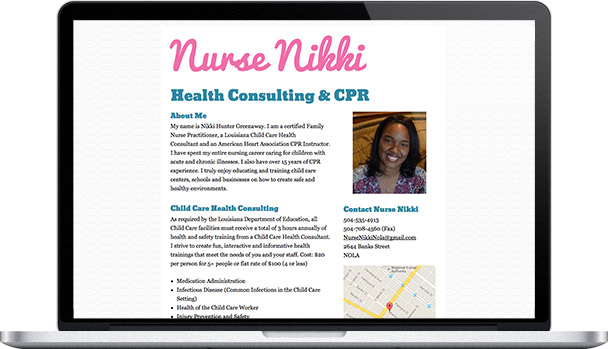 Nikki Hunter Greenaway is a certified family nurse practitioner from New Orleans, Louisiana, who offers child care training, school health consulting, and CPR classes.
Why We Like It
Nikki's site strikes the perfect balance of design and content. The minimalistic, elegant design paired with clear and thorough information establishes her as a courteous and organized professional who brings a personal drive to her work. All of these qualities are especially important in her line of work, where clients are trusting Nikki to advise on policies that affect many children's health. The neutral and minimalistic background help her brightly colored headers really pop, making it easy for visitors to navigate between sections. Also, placing her picture at the top of the right sidebar adds a great personal touch to the page—on the internet, we can write all we want about qualifications, but there's something about a picture that makes it easier to trust someone.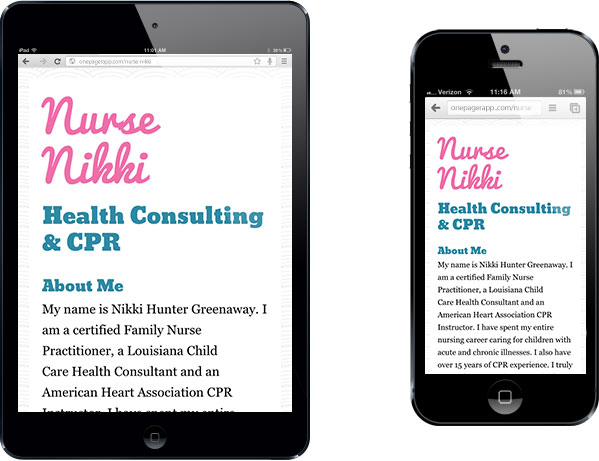 In addition to having great design, the language Nikki uses on her page is wonderfully simple and informative. After her first paragraph, she has three main sections about each area of expertise. Each begins with an introductory paragraph which not only describes Nikki's skills, but also provides the greater context into which her expertise fits. For instance, in the Child Care Health Consulting section, she informs visitors about the Louisiana Department of Education's requirements, which helps readers understand why Nikki is valuable not just on an individual level, but a policy level as well. Following each intro, she provides a bullet list of topics or services included, allowing readers to quickly understand what each service entails.
Congratulations, Nikki—your site has its finger on the pulse of great web design!
Ready to showcase your business or brand?
Create a simple small business website with Onepager
Start Building