Meet John Gross, the Man Behind the Off-Centered Film Festival and the Rising Star of Your Career Envy
The Off-Centered Film Festival is an epic three-day celebration of film, food, and craft beer, hosted by the Alama Drafthouse Cinema in partnership with Dogfish Head Craft Brewery. Now in its ninth year, the OCFF is kicking off its first ever multi-city tour with a medieval times theme. So prithee come hither and lend thy attention to the Alamo's very own John Gross, who brings tales of film, merriment, and ale!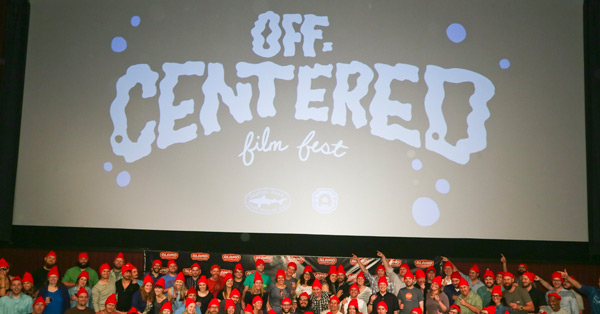 This Friday, May 13th,  you're kicking off the ninth annual Off-Centered Film Festival. Can you tell us a little bit about it and how it got started?
The Off-Centered Film Festival is a joint collaboration between the Dogfish Head Craft Brewery out of Delaware and the Alamo Drafthouse Cinema based here in Austin, Texas. For the last eight years, it's solely been in Austin, but this year we're pretty excited to be spreading the love across Texas a little more. We're actually holding events in both our Houston and Dallas locations as well.
How does your collaboration with Dogfish Head work?
We bring the love of movies to the table, Dogfish Head brings a lot of their special beers, and we stir them all together and see what we come up with. It's been something different and great every single year.
Does this year's festival look very different from the first?
It does. The first two or three years were much more conversational and laid back. It was a lot of being together with fans of Dogfish Head, drinking beers, and getting a chance to meet the founder and CEO of Dogfish Head, Sam Calagione, who comes down every year. In the craft beer world, he's somewhat of a demigod. Like a beer Zeus or better yet: a beer Mick Jagger. He's got a huge, magnetic personality and people just want to be around him. We were able to facilitate that. The early years really were just a chance for people to drink some amazing beers and hang out with Sam, more or less.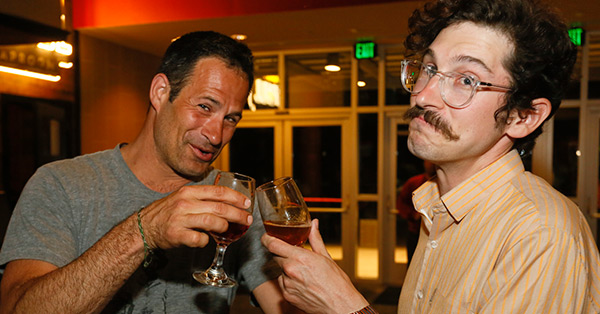 Sam coming down to Texas is something I look forward to personally ever year. He's just a barrel of fun. It's awesome to show him movies that we love and for him to bring down special vintage and more hard-to-find Dogfish Head beers that we wouldn't necessarily otherwise be able to drink.
What other types of themes have you had?
We've had a cowboy, old screwball classic comedy, hip hop cinema…
Did you show Belly by any chance?
Belly was on the short list, but our final lineup ended up being 8 Mile, Friday, The Last Dragon, Friday, and a short film competition. We also did a 90s hip hop sing-a-long that we do at the Alamo called "Jiggy Crunk," so we had our room full people drinking 60 Minute IPAs and dancing to Notorious B.I.G. and Will Smith.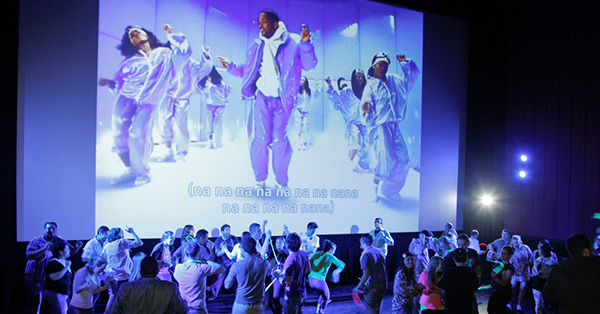 Have you had any other events like that during other years?
Last year's theme was yacht rock, so we showed a lot of nautical and boat movies. We rented a boat and played yacht rock tunes and it was very smooth. That was such a hit last year that we're actually doing it again and tweaking it a little bit. This year our theme is medieval times, so we're adding in some plastic swords and crowns and whatnot.
What does the medieval movie lineup look like?
Like I said, we're spreading it out a little bit, and we're actually going to show Braveheart in Houston, but it's not going to be a regular, boring screening of Braveheart. It's going to have live commentary by this group of movie mocker guys and girls that are based here in Austin called "Master Pancake Theater." They're pretty amazing. It's like going to a Mystery Science Theater 3000 show, but live, and the main guy typically finds a way to strip down to his underwear.  So… that's fun.
For Austin, we're doing the boat party, and we're also going to have a huge beer feast with several courses, all while watching the Terry Gilliam movie Time Bandits. I don't know if you've ever seen it, but it's really bizarre. After that, we're going up to Dallas for a screening of Monty Python's The Holy Grail. One of the fun things the Alamo is known for is what we call our "quote-a-longs." It's more than just a regular screening—people quote along, hence the name, while drinking beers. We'll give out a lot of cool props, like coconut halves to clop along with the knights in the movie. That'll be either really annoying or really magical, but we'll see.
Have you had a favorite theme up to this point?
Spreading it out this year sure is exciting, but in 2014 we had a theme that we called "Stuntin'." We actually brought down the three guys from The Lonely Island.
Whoa. That's awesome!
One of my favorite movies is Hot Rod, which they wrote, directed, and starred in. They were excited that someone appreciated Hot Rod, so they came down and appeared for that. That was pretty special.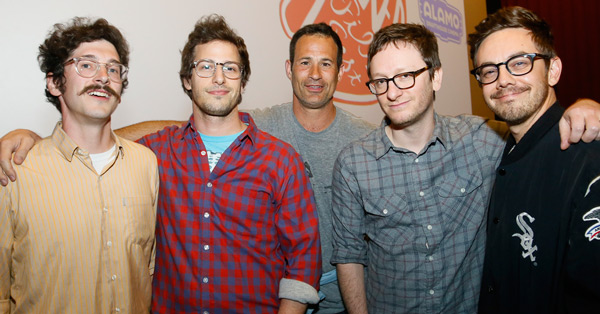 That's amazing. How did you go about contacting them?
Oh man, the internet is a magical tool. You can usually find people's agents or managers or publicists or somebody that knows somebody and just ask politely.
What's your process for deciding on a theme?
There's not necessarily a formalized, democratic full-on vote, but it's very conversational and brainstorm-y. I work really closely with a couple people here on the Alamo side, and then I obviously want it to feel like it's all of ours. Every step of the way, there's a lot of collaboration, back-and-forths, video chats, emails, and texts.
How do you get out the word to people?
Being a movie theater, we're able to control what goes up on the screens, so we play what we call "stingers," which are little trailers for upcoming events. That allows us to put it in front of a lot of eyeballs in our theaters.
Also, both the Alamo and Dogfish have pretty dang good online social media presences in their respective worlds.
How long have you been working at Alamo, and what other sorts of projects do you work on there?
I started in 2005, so almost 11 years. The Alamo is a place that really lets all of its employees focus on things that they're passionate about. I started getting really into the beer stuff. My job has always been working in the creative department with all of our video and design stuff. I act as a project manager and a liaison to all the different theaters across the country. We have 24 locations now, which is crazy.
Wow. What does that involve exactly?
Basically, if anyone needs anything on screens or anything like that, I try to help make it happen. I've been doing that for years as my real job and working on beer events, beer programming, and special projects with breweries as a secondary job. It's a passion project of sorts.
This year, I've had a bit of a title change, so I'm now the Director of National Brand Promotions and will be doing more and more stuff like that officially. That's still being defined, but it's basically working with cool breweries. Planning awesome events with the Alamo and Dogfish is a huge part of that.
I think it's safe to say that you have a dream job.
Yeah, it's a pretty custom dream job to my particular dream. It's perfect. It definitely isn't a job that other companies have.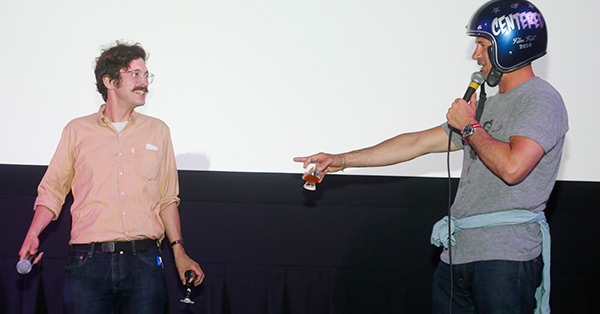 Has the connection between the Alamo and local breweries always been there, or is that something that's grown over time?
It's definitely grown over time. Part of the Alamo's original mission statement was to watch movies and drink beer.
As the craft beer movement has grown and gotten more popular—not just in Austin, but everywhere—more breweries are opening. Statistically, at least two breweries open in this country every day. As that's changed over the years, the Alamo's changed with it. Not just with supporting local breweries and serving local beer at the theaters, but also with things like adding more taps at our own bars. People want more and more options to buy and drink local. The Alamo's a big supporter of that.
How do you think it affects the movie-watching experience?
I just saw a big Hollywood stinker that was awful—I'll keep it unnamed, but by the end of it I was like, "Oh, I'm still glad I saw that because the beers were really good, the food was good, and the audience was fun." The Alamo's great for that. It can salvage bad movies and make them great movies or make a funny movie even funnier.
People recognize the Alamo on a national level now. What do you think makes it continue to thrive and expand?
I think that the social experience is a main part of it: going to the Alamo, meeting up with friends, sharing the experience of a movie being excellent or, heaven forbid, awful, and being able to either high-five or laugh at what a bad decision you made. I think that'll always be a cultural thing. That'll always be part of entertainment.
Don't get me wrong—Netflix and Amazon are great. In fact, I spent way too much time last night watching old Curb Your Enthusiasm on the couch. I was in the mood for a very different experience than going and enjoying a beer feast with Time Bandits.
Since the Alamo unabashedly loves movies so much, we're dedicated to programming great events beyond just new things from Hollywood, though we do embrace those too. For instance, seeing Captain America: Civil War at the Alamo is, without a doubt, going to be a better experience than somewhere else because we have a lot of surprises planned for our guests. As long as we continue planning cool things for our audiences, they'll continue to appreciate and go to them. We care. And also, we have beer.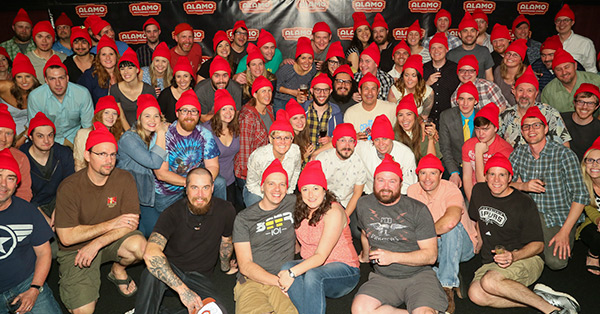 Beer goes a long way.
It goes a long way, that's right. This month, actually, all participating Alamos are featuring special Dogfish beers on their menus, even our theaters that aren't getting an Off-Centered Film Fest. There's still a lot of really great Dogfish beers being highlighted. That goes back to how much we like them as a company.
Dogfish Head uses Onepager for a lot of their promotions. Is that how you found out about us?
Yes, their IT people volunteered to help us with the website this year, and that's how we're on the phone right now. The ease and professionalism of Onepager seems to be unmatched.
After the Off-Centered Film Festival, are there any other events or projects the Alamo is working on?
We are focusing a lot of energy right now on our upcoming opening in downtown Brooklyn.
I'm in Brooklyn, so I'm excited about that!
It's going to be pretty great. It'll be at Flatbush and Fulton. That's coming this summer and a lot of us here at the office are working, pulling out all the stops, and planning some big things for that.
We'll also be gearing up for next year's Off-Centered Film Fest since it'll be year ten. We're working on making it the biggest and best, totally blowing it out of the water. We're gonna do it really big—you just wait and see.
The Off-Centered Film Festival kicks off Friday, May 13th—get your tickets here!
Ready to showcase your business or brand?
Create a simple small business website with Onepager
Start Building