Onepager of the Week: Aaron Sprinkle Music
This personal site for the multi-talented Aaron Sprinkle makes a big impression on its visitors.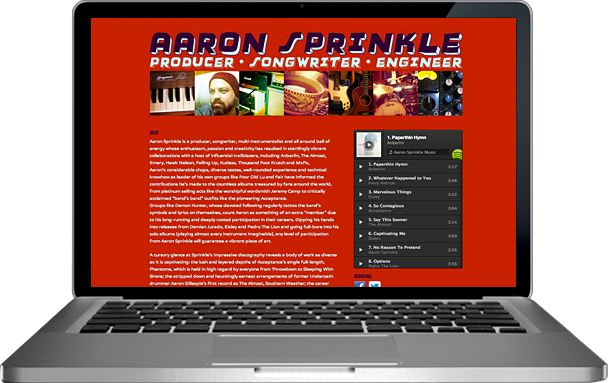 Why we like it
Aaron's done a great job making his Aaron Sprinkle Music site big and bold. The nice red background with dark titles and white text gives that effect and the image at the top of the page gives the whole experience some nice depth. Aaron's also done an awesome job with using the new iFrame element, which lets him embed both a Spotify playlist and an Instagram feed. He also added a Twitter feed and a custom favicon. Very nice touches!

The beat goes on, on the road
Aaron's site looks solid on tablets and smartphones. The content all collapses into a single column that's easy to scroll down on the go. Of course, all that video, music, and photo content is available on mobile devices.
Thanks Aaron for using Onepager to create an awesome simple website!
Ready to showcase your business or brand?
Create a simple small business website with Onepager
Start Building