Onepager of the Week: Amber Waves
A beautifully customized Onepager for two of the most respected craft brewers in the world.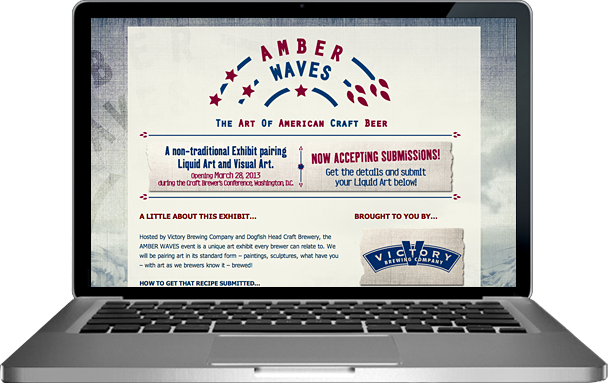 Why we like it
Amber Waves is an event organized by Dogfish Head and Victory Brewing that pairs traditional art forms with beer (maybe the most delicious art form). Visitors to the site can submit their recipes for their brews, which have the chance to win and be served at the event. It's a unique concept for a brewery contest and their Onepager is equally as unique to match.
The design of their site is very customized and gorgeous. The background with the burlap texture and photos is beautiful and a great deal of thought went into the logo and graphics used. We also really enjoy the color palette they selected, which gives a nice emotion to the site.
Dogfish/Victory is taking advantage of a couple of new Onepager features including multiple sites and the iFrame module, which they've used to embed a Wufoo form. We're looking forward to more great sites from them in the future.

Amber Waves on mobile
The site looks great on a mobile device as all the design elements are carried through and optimized for smartphones and tablets. The Wufoo form that they embedded works nicely and all of the images come through crisp and clear, even on Apple retina displays.
Thanks to Dogfish and Victory for using Onepager to create a beautiful simple website!
Ready to showcase your business or brand?
Create a simple small business website with Onepager
Start Building