Onepager of the Week: Joyful Stitches
A custom website for a talented custom handmade goods creator is this week's Onepager of the Week.

Why we like it
Joyful Stitches is a website for the very talented handmade craft creator Barb Thompson from Pittsburgh, PA. Barb's site has a nice, handcrafted look that compliments the work she showcases. We like how the focus is on the photos of her pieces thanks to the muted color and design of the rest of the page.
Joyful Stitches makes great use of our images module to show off all her various handcrafted projects. For users who are interested in placing an order, they can quickly use her contact form to email her. We also like how they modified their site's CSS to have a stitched border between the sections.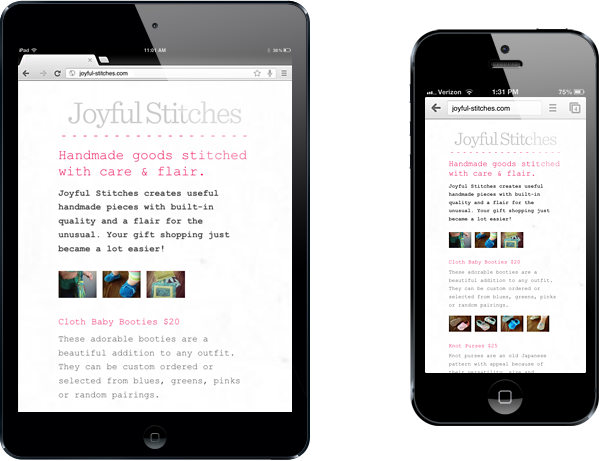 Joyful Stitches on mobile
Like other two column Onepager sites, Joyful Stitches collapses into one column on mobile devices. All of the content is nicely legible and is easy to look at on smartphones and tablets.
Great job Joyful Stitches with your simple website with Onepager!
Ready to showcase your business or brand?
Create a simple small business website with Onepager
Start Building