Onepager of the Week: Rose & Thorne
A gorgeous background pattern and beautiful color scheme make this "intimate" site a good fit for our Onepager of the Week!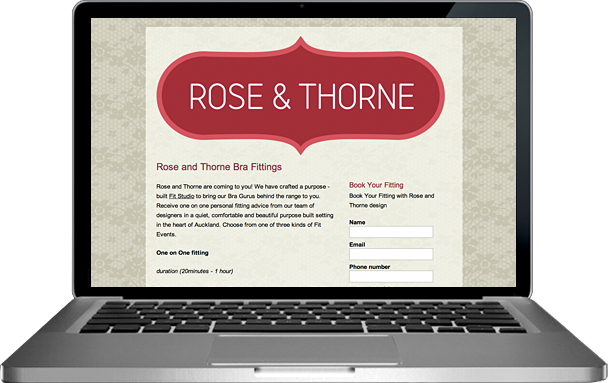 Why we like it
Rose & Thorne is an Auckland, New Zealand based business that specializes in helping get the size right for one of the things closest to a woman: her bra. They have a few different packages they offer and users can sign up for a fitting session by filling out the form they have in the sidebar.
The things we love about their site are the pretty and relevant tiling background they use, the large and colorful logo, and the consistent color scheme they use. It's a really nice looking site!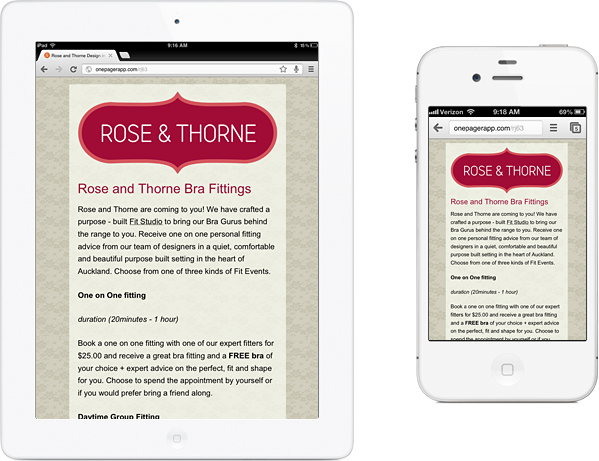 Rose & Thorne on mobile
The site looks great on mobile devices with the sidebar dropping down below the main content area. This keeps all the content legible, but maintains the functionality of the site. The great thing about using Onepager for your site is your design carries through to phones & tablets instead of a generic mobile site template. Rose & Thorne benefits from that with their great design translating very well to mobile devices.
Our only area of criticism is Rose & Thorne should customize their Onepager address on their free site. It would help with branding and be a good intermediate step before upgrading to use their own URL.
But, overall a great site! Thanks Rose & Thorne for using Onepager to create a beautiful simple website!
Ready to showcase your business or brand?
Create a simple small business website with Onepager
Start Building