Onepager of the Week: Text Collection
A stunning background image combined with a great product makes this simple ecommerce site our Onepager of the Week.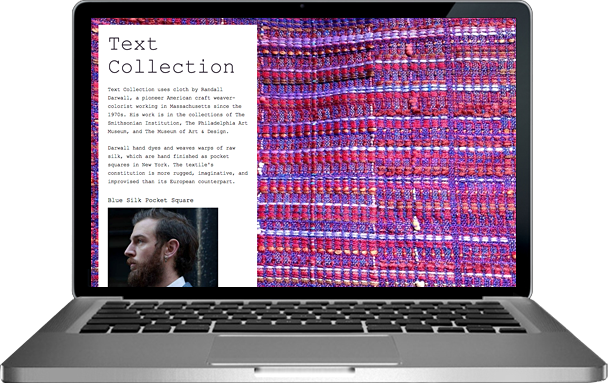 Why we like it
Text Collection is a New York-based business that creates stunning and individually unique pocket squares. Their product is interesting because instead using of stock fabrics, Text Collection takes a different and historical approach:
"Text Collection uses cloth by Randall Darwall, a pioneer American craft weaver-colorist working in Massachusetts since the 1970s. His work is in the collections of The Smithsonian Institution, The Philadelphia Art Museum, and The Museum of Art & Design."
Their dedication to preserving the past and providing a great product in the process is very admirable.
Their Onepager site gives them a great foundation for their online operations. The first thing the visitor notices is the background pattern, which is presumably a sample of the fabric they use in their products. It's bright, bold, and the texture really comes across. All of those aspects convey a strong sense of quality in their products.
While keeping their content short and concise, they provide several sample photographs of their pocket squares and allow for people to purchase the product using our ecommerce capability.

Text Collection on mobile
The site also looks great on mobile with the background still grabbing attention and the text large enough to read easily. Also noteworthy, customers can purchase a pocket square on their mobile devices.
Thanks to Text Collection for creating their simple website with Onepager!
Ready to showcase your business or brand?
Create a simple small business website with Onepager
Start Building