Featured Onepager: Prichard & Prichard
This week's Featured Onepager is one for the books!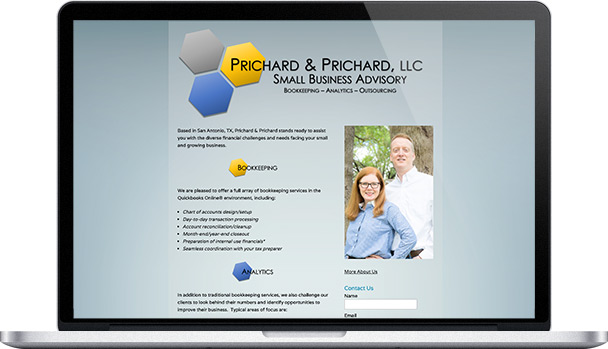 Prichard & Prichard helps small and growing businesses in San Antonio, Texas manage their finances.
Why We Like It
As many of our own customers know, running a small business is full of surprises, especially if you're new to the financial side of things. If you're part of a small team that's not quite ready to bring on a CFO, it often pays off to work with a consultant to help you navigate all that accounting stuff, allowing you to focus on the product. And we know just the duo—Prichard & Prichard, who also happen to have a great Onepager.
Their consistent branding keeps the page visually cohesive and easy to navigate. We love the way they've taken the hexagon motif from their logo and used it to demarcate sections. Each of the hexagons is a different color, which adds visual intrigue and further distinguishes between groups of information. And if you click on the "More About Us" link underneath their picture, you'll see a one-sheet with each of their bios, using the same motifs and colors from the website.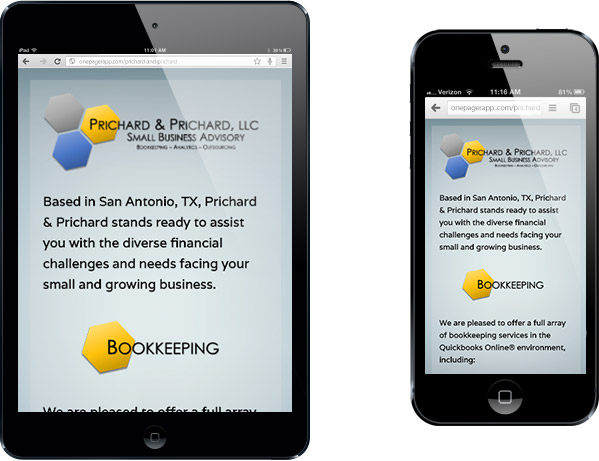 The clear, simple structure of Prichard & Prichard's site makes it easy to follow—and dare we say even calming—which is especially important here, since dealing with business financials is stressful for many. They divide their services into three main categories: bookkeeping, analytics, and outsourcing. Since bookkeeping is probably the most common service a small business owner would be looking for, listing it first ensures that the site appeals to the highest number of potential clients. But anyone looking for analytics and outsourcing doesn't have to scroll too far to find those. The quick summaries at the top of each section do a great job of orienting visitors, and the bullet lists provide a digestible overview of the specific services they provide.
Congratulations, Prichard & Prichard—we gotta give credit where credit's due!
Ready to showcase your business or brand?
Create a simple small business website with Onepager
Start Building