Featured Onepager: Rezza
This week's Featured Onepager is awesome sauce!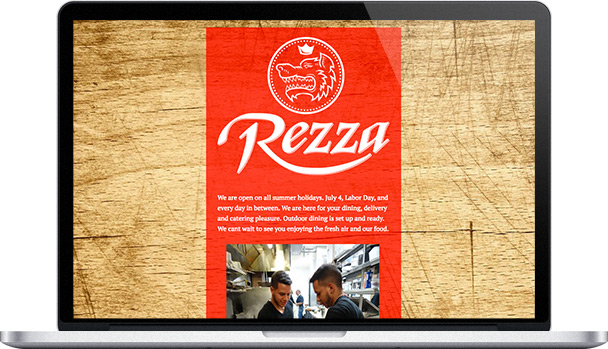 Rezza is an Italian restaurant serving the residents of Roseland, New Jersey.
Why We Like It
Dean Martin once sang, "When the moon hits your eye like a big pizza pie, that's amore." But this week's Featured Onepager has us singing, "When Rezza's site hit our eyes with their big pizza pies, that's amore."
Throughout their whole site, Rezza's inviting, informative copy shows you how much care and thought goes into their food. The background information about owner John Bendokas describes his extensive experience and dedication to Italian cuisine. We also love the list of his favorite dishes, which adds a wonderful personal touch and gives customers who like to do their homework ahead of time some recommendations for their visit. Towards the bottom of the page, you can see how committed Rezza's staff is to using the freshest, most authentic ingredients—their sources range from local farmers markets to Italian towns from where they source their olive oil, tomatoes, and flour. Yum!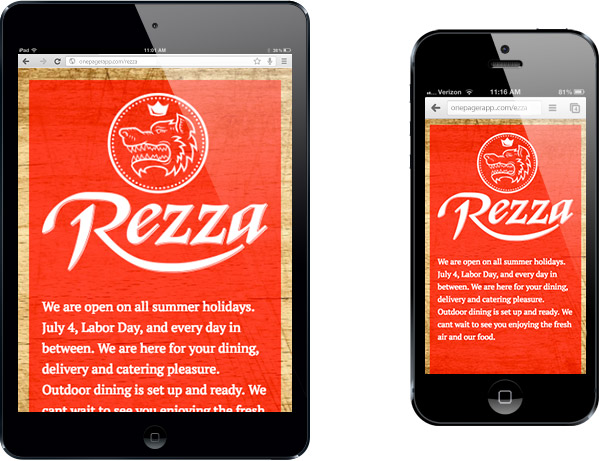 Adding to the warm feel of the page are photos give visitors a glimpse into their process and menu. Setting the tone, the background photo of a wooden counter cleverly invokes the pizzeria setting, making visitors feel like they're right in the kitchen. The two galleries also give you a complete picture of the restaurant, from chefs prepping to the dishes' final plating, with a great first image of two cooks carrying a huge pot of delicious-looking tomato sauce. It's a nice behind-the-scenes look that illustrates the joy that goes into Rezza's food. Once you start clicking through, you'll see beautiful food photography of their scrumptious dishes, from antipasti to eggs benedict to margherita pizza. By including dishes from all three mealtimes, Rezza lets you know it's a place that can whip up something fresh and delicious for any occasion.
Congratulations, Rezza, on serving up a site cooked to perfection!
Ready to showcase your business or brand?
Create a simple small business website with Onepager
Start Building