Why Farmer Rick Quit His Desk Job To Start An Organic, Sustainable Farm
When Rick Reddaway realized he was born to farm, he left his office job and set up shop on a quarter acre of land. Since starting Abundant Field Farms, he's been selling his fresh produce at farmer's markets and local restaurants, taking "growing business" to literal and figurative heights.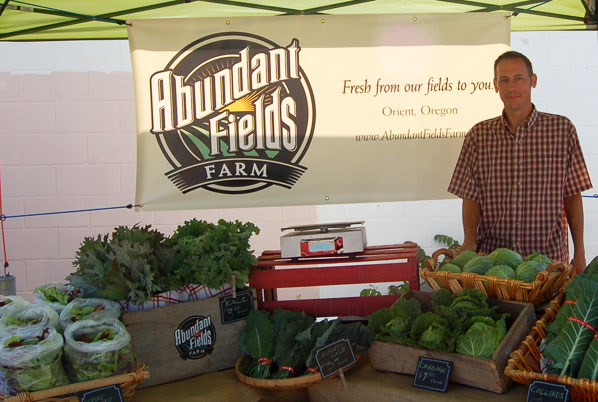 Tell us about Abundant Fields Farm and how you got started.
It's a very small farm, less than an acre.  I grew up on my dad's property farm and loved it, but ended up working in the construction industry, specifically with elevators. I was in the project management side of that, then a couple years ago I kept realizing over and over that I didn't like sitting behind a desk, that I'd rather be digging in the dirt. I just had this urge to farm, which was spurred by visiting farmers markets and buying organic and local products. So I took the plunge and quit—what to me was—a high paying job. I started out very small, selling at one farmer's market and one small restaurant account.

What was the process of starting the farm like?
My wife's parents have a few acres, and that's basically where I got my feet wet—or dirty.  We moved into their place, and they let me use some of their land. They'd been growing big gardens for 30 years, so they were my built-in mentors. I started out on a quarter acre, but it was enough to sell at a farmer's market every week. I didn't make much money at all, but it's not really about the money. My wife works, and she makes a salary. I'd like my farming to be the second income of the family, but it's going to take time. Now, I'm in a program that's for beginning farmers who don't have a lot of capital, so I'm growing on a very large 60 acre parcel of property. I'm only using a third of an acre.
Is that the incubator program that's on your website?
Exactly. In about a week I'm actually moving onto this property as the caretaker, so I'll be living there.  I farm here and then I still have that quarter acre up at my in-laws' place, too.
What's been your biggest obstacle so far?
Farming's not like a traditional startup business.  I'm not selling widgets or apps that a lot of people know about. It's hard to explain.  I guess my biggest obstacles were getting out there, getting to know and find customers, and peddling my wares. And now farmers also need to have an online presence if you want to reach more people and let them know where you're at. You really fit into the local organic movement that's growing so fast, with people who'd be searching online for local food sources like yours. I'm also on a couple of other sites like Food Hub. By having a website that's linkable, I'm also getting feedback from out-of-state visitors. But yeah, the target is mostly local. I'm hoping that as I grow and the website grows, the customer base will grow, too.
People might assume the farming industry is slower to adopt new technology, but have you seen farms using it to connect with customers in new ways?
I've seen some other local farms use their webpages fairly efficiently for CSAs.  It can be really useful for updating your customers on what you're going to have every week. Some also use their website for the restaurants they supply—the restaurants will basically order from there. Instead of the traditional approach of calling up and faxing what you've got this week, people can come to you and see what you have.
How has managing your website been so far?
Onepager was recommended by a designer friend, who also created our logo. From the beginning, I was like, "Whoa, this is extremely easy!" I've been able to go in and update photos or drop new content in, and it's always been very smooth. It can expand along with my company, and I won't be overwhelmed by it.  So far, it's done everything I've wanted it to do. I might take advantage of the PayPal button at some point if I ever make T-shirts or if had a value-added product, like if I made sauerkraut or something.  People could buy it online.
What type of reaction have you been getting to your site?
It's pretty new, so it's a little early to say.  But one really important thing to mention is that before I actually purchased the domain name, there was another company with "Abundant" in its name that came up first in searches. Once I bought my domain name, my website moved to the top. I was surprised at how quickly that happened.
Do you have a favorite small business?
Well, obviously it's my small business because it's mine, but I've always been drawn to creatives, whether it's just a one-person design firm or even little boutiques around town, like small shops that sell local artists' work. Or just the little guy. Always go for the little guy.
Ready to showcase your business or brand?
Create a simple small business website with Onepager
Start Building