Featured Onepager: Will Arbery
This week's Featured Onepager is a showstopper!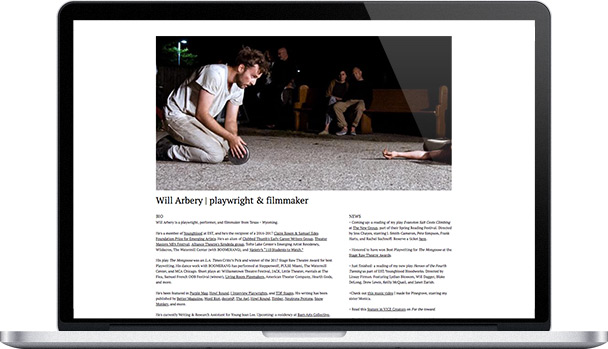 Will Arbery is a playwright and filmmaker from Texas and Wyoming.
Why We Like It
We're six days away from the 2017 Tony Awards, and much to our surprise, there's no "Best Onepager Design" category. However, we'd like to take this opportunity to host a small ceremony honoring the work of a playwright who also happens to be a talented website designer. After polling our colleagues, the vote was unanimous: so please put your hands together for the recipient of this year's award, Will Arbery!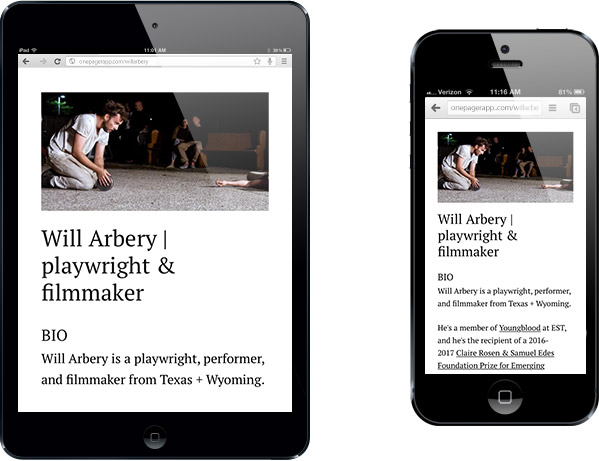 The minimalist style of Will's site allows his work and accomplishments to really stand out, which is the number one goal of a personal website. The neat, well-organized black text against the solid white background keeps the focus on his words. Will provides links to awards, projects, and reviews, so his text remains uncluttered, but visitors eager to learn more can easily find that information. We also love his use of the right sidebar for news on his latest work and accomplishments—by making sure it's up-to-date, Will not only keeps followers current on his life, but shows them he's actively involved in his craft and community.
Will uses visuals sparingly, but when he does, they are to great effect. The header image shows him in action at one of his performances: it's an attention-grabbing photo that immediately piques interest and draws visitors in. The high-contrast image echoes the black text nicely, anchoring it to the page. After his bio, Will has embedded a Vimeo link to his filmmaking reel, as well as a photo gallery to his theater and dance photos. His restraint with visuals makes people more likely to engage with the ones he has chosen, and since viewing his work in action is arguably the most important action a visitor can take, Will's selectivity is very well-advised.
Congratulations, Will Arbery, on a site worthy of a standing ovation!
Ready to showcase your business or brand?
Create a simple small business website with Onepager
Start Building